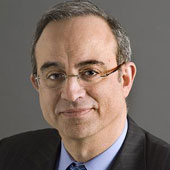 Senior Vice President of External Affairs, World Bank
Marwan Muasher joined the World Bank as Senior Vice President of External Affairs in 2007, from his most recent position at the Senate of Jordan. His career has spanned the areas of development, diplomacy, civil society, and communications.
Mr. Muasher began his career as a journalist for the Jordan Times, then served at the Ministry of Planning and later as press advisor to the Prime Minister. He subsequently served as Director for the Jordan Information Bureau in Washington.
In 1995, Mr. Muasher opened Jordan's first embassy in Israel, and in 1996 became Minister of Information and the government's spokesperson. From 1997 to 2002, he served in Washington again as Ambassador, negotiating the first free trade agreement between the United States and an Arab nation.
He then returned to Jordan to serve as Foreign Minister. In 2004 he became Deputy Prime Minister and led the effort to produce a ten-year Development Strategy that included major recommendations on political and economic reform, financial services, fiscal reforms, employment, education, and training.
Mr. Muasher holds a PhD in Computer Engineering from Purdue University.