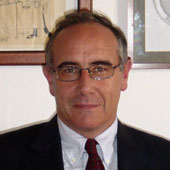 Author and commentator
Massimo Franco is an author and a political columnist of Italian daily newspaper Corriere della Sera.
His book, "La crisi dell'impero vaticano, perché la Chiesa è diventata un imputato globale," ("The Crisis of The Vatican Empire: Why the Catholic Church has Become The Accused Worldwide"), (Mondadori Publ. House, 2013), was a best-seller in Italy. It was published in the United States by Open Roads.
He recently wrote another book "The Vatican According to Francis", (Mondadori Publ. House, 2014), on the Vatican.
An updated edition of his book "Parallel Empires, The Us and the Vatican, beyond two centuries of alliance and conflicts," has just been published by Il Saggiatore, Milan.