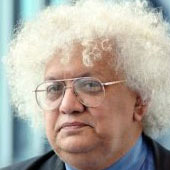 Member of the British House of Lords
Born in India, Meghnad Desai is a member of the British House of Lords and an emeritus professor of economics at the London School of Economics, where he taught from 1965 to 2003.
In 1992, established the Centre for the Study of Global Governance at the LSE. From 1990 to 1995, he was director and founding member of the LSE's Development Studies Institute. In 1991, he was made Lord Desai of St. Clement Danes.
His book Marx's Revenge: The Resurgence of Capitalism and the Death of Statist Socialism (Verso, 2002) stated that globalization would tend toward the revival of socialism. His other books include Rethinking Islamism: The Ideology of the New Terror (Tauris, 2006), The Route to All Evil: The Political Economy of Ezra Pound (Faber & Faber, 2007) and The Rediscovery of India (Bloomsbury, 2009).