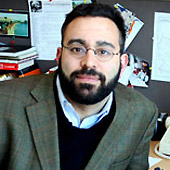 (Deceased.) Visiting Fellow, Watson Institute for International Studies, Brown University
Michael Vinay Bhatia tragically died on May 7, 2008 after having returned to Afghanistan to continue his field research in September 2007. He was a doctoral candidate in the Department of Politics and International Relations at the University of Oxford. At the time his 2007 photo series was published with The Globalist, he was a visiting fellow at Brown University's Watson Institute for International Studies. He was awarded a George C. Marshall Scholarship in 2001 and a Scoville Peace Fellowship in 2000, supporting residence at the Center for Strategic and Budgetary Assessments in Washington, DC.
His dissertation is titled "The Mujahideen: A Study of Combatant Motives in Afghanistan, 1978-2005," which is based on 350 interviews with combatants throughout Afghanistan, as well as archival and media research.
Mr. Bhatia conducted research in Afghanistan for the Overseas Development Institute, the Small Arms Survey, the Afghanistan Research and Evaluation Unit, the UK Department for International Development (via the International Policy Institute, King's College, London) — and the Organization for Security and Cooperation in Europe.
He also did humanitarian work and research in the Sahrawi refugee camps, East Timor and Kosovo. Before coming to the Institute, Mr. Bhatia was a sessional lecturer on the causes of war in the Department of Political Science at Carleton University in Ottawa.
Mr. Bhatia was the author of "War and Intervention: Issues for Contemporary Peace Operations" (Kumarian Press, 2003). He received his MSc in international relations research from the Department of Politics and International Relations, University of Oxford, and his BA in international relations from Brown University.