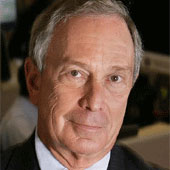 Mayor of New York City
Michael R. Bloomberg is the 108th Mayor of the City of New York. He was first elected in November 2001, two months after the terrorist attacks on 9/11.
Born on February 14, 1942, in Boston and raised in a middle class home in Medford, Massachusetts, Michael Bloomberg attended Johns Hopkins University. After college, he went on to receive an MBA from Harvard Business School.
In 1966, he was hired by Salomon Brothers. He quickly rose through the ranks at Salomon, overseeing equity trading and sales before heading up the firm's information systems. When Salomon was acquired in 1981, he was let go from the firm.
With a vision of an information company that would use emerging technology to bring transparency and efficiency to the buyers and sellers of financial securities, he launched a small startup company called Bloomberg LP. Today, Bloomberg LP has over 300,000 subscribers to its financial news and information service in over 160 countries around the globe. Headquartered in New York City, the company has about 13,000 employees worldwide.
Mayor Bloomberg is the father of two daughters, Emma and Georgina.