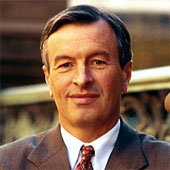 Former chairman and chief executive officer for UPS
Mike Eskew served as chairman and chief executive officer for UPS, the world's largest package delivery company and a global leader in supply chain services, from January 2002 to December 2007. He continues to serve on the company's Board of Directors.
Mr. Eskew began his UPS career in 1972 as an industrial engineering manager in Indiana. His advancement continued in various positions of increasing responsibility, including time with UPS's operations in Germany and with UPS Airlines.
In 1994, Mr. Eskew was named corporate vice president for industrial engineering. Two years later, he became group vice president for engineering. Mr. Eskew has served as a member of the UPS Board of Directors since 1998.
In 1999, he was named executive vice president and a year later was given the additional title of vice chairman. Mr. Eskew held this position prior to assuming his current role on January 1, 2002.
In addition to his corporate responsibilities, Mr. Eskew is a Trustee of The UPS Foundation and The Annie E. Casey Foundation, which is the country's largest foundation dedicated to disadvantaged youth. In 2003, Mr. Eskew was appointed to the President's Export Council and was elected chairman of the U.S.-China Business Council in 2004. He also serves on the Board of Directors of the 3M Corporation and is a member of the Business Roundtable.
A native of Vincennes, Ind., Mr. Eskew graduated from Purdue University with a bachelor's degree in industrial engineering. He also completed the Advanced Management Program at the Wharton School of Business.