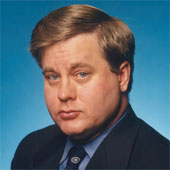 Policy Director of the Economic Growth Program, New America Foundation
Michael Lind is Policy Director of the New America Foundation's Economic Growth Program. He co-founded the New America Foundation with Ted Halstead and Sherle Schwenninger, and was the first New America fellow.
Mr. Lind has taught at Harvard University and Johns Hopkins University and writes frequently for the Financial Times, New York Times, Democracy Journal, and other publications. He has appeared on C-SPAN, National Public Radio, CNN, Business News Network, PBS NewsHour and other programs. He has a weekly column in Salon Magazine.
Mr. Lind's first three books of political journalism and history, The Next American Nation (Free Press, 1995), Up From Conservatism (Free Press, 1996) and Vietnam: The Necessary War (Touchstone, 1999), were all selected as New York Times Notable Books.
He is also the author of Made in Texas: George W. Bush and the Southern Takeover of American Politics (New America Books/Basic, 2003), What Lincoln Believed: The Values and Convictions of America's Greatest President (Doubleday, 2004) and The American Way of Strategy (Oxford University Press, 2006). With Ted Halstead, he wrote The Radical Center: The Future of American Politics (Doubleday, 2001).
He has also published several volumes of fiction and poetry, including The Alamo (1997), which the Los Angeles Times named as one of its Best Books of that year, and a prize-winning children's book, Bluebonnet Girl (Henry Holt, 2004).
His latest book, Land of Promise: An Economic History of the United States, was published in April, 2012, by HarperCollins.