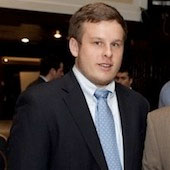 Investment professional in the sustainability and real estate sectors, Berlin, Germany
Nathan Richter is an investment professional in the sustainability and real estate sectors.
Now based in Berlin, Germany, Mr. Richter has working experience in the United States, Europe and Asia.
A dual citizen of the United States and Germany, Mr. Richter spent two years in China, earning his master's degree in management at Peking University's HSBC Graduate Business School, in Shenzhen, China. His Master's thesis explored "Asset Risk and Capital Structure of Oil and Gas Master Limited Partnerships."
Attesting to his interest in sustainability, he has authored one Harvard Business Review article, entitled "Is Rooftop Solar Finally Good Enough to Disrupt the Grid? Why the future looks bright — but not necessarily for utilities."
He also co-authored another HBR article exploring the parallels and differences of the U.S., German and Chinese management approaches, titled "Which Management Style Will China Adopt?"
Nathan Richter received his B.A. in 2013 from the Honors College at the University of Delaware (Cum Laude, Phi Beta Kappa), where he studied business, economics and international political economy.