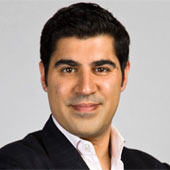 Director, Global Governance Initiative
Parag Khanna is director of the Global Governance Initiative and a senior research fellow in the American Strategy Program at the New America Foundation.
He is also the author of "How to Run the World: Charting a Course to the Next Renaissance" (Random House, 2011) and "The Second World: Empires and Influence in the New Global Orde" (Random House, 2008).
During 2007, Mr. Khanna was a senior geopolitical advisor to United States Special Operations Forces in Iraq and Afghanistan. From 2002 to 2005, he was the Global Governance Fellow at the Brookings Institution, managing the World Economic Forum's Global Governance Initiative.
From 2000 to 2002, Mr. Khanna worked at the World Economic Forum in Geneva, where he specialized in scenario and risk planning. Prior to joining the WEF, he was a research associate at the Council on Foreign Relations in New York.
He was a Next Generation Fellow of the American Assembly (2007-08), visiting fellow at the Lee Kwan Yew School of Public Policy in Singapore (2006), non-resident associate of the Institute for the Study of Diplomacy at Georgetown University (2004-05), and a visiting fellow at the Observer Research Foundation in New Delhi, India (2004).
He holds a B.S. in international affairs from Georgetown University, an M.A. from Georgetown's Security Studies Program, and is pursuing a Ph.D. in international relations at the London School of Economics.