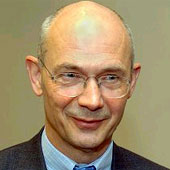 Former Director-General, World Trade Organization
Pascal Lamy served as the director-general of the World Trade Organization from 2005 to 2013. He is currently the honorary president of the Paris-based think tank Notre Europe.
From 1999 to 2004, Mr. Lamy was the European Union's Trade Commissioner in Brussels. Before that, he served as the head of the team responsible for the post-bankruptcy restructuring of the French bank Crédit Lyonnais.
The early parts of his career were spent in civil service at the French Finance Ministry, the Inspection Générale des Finances and the Treasury Department.
He later became adviser to Jacques Delors, who was then Economics and Finance Minister, and to Prime Minister Pierre Mauroy. From 1984 to 1994, Mr. Lamy worked in Brussels as chief of staff to Jacques Delors during his tenure as president of the European Commission.
A member of the French Socialist Party, Mr. Lamy is also politically active in the Mouvement Europeen. In 1999, he was the recipient of the Officier de la Legion d'Honneur and has been honored with several international orders of merit.
Mr. Lamy earned degrees at L'Ecole des Hautes Etudes Commerciales (HEC), the Paris Institute of Political Studies (Sciences Po) and L'Ecole Nationale d'Administration (ENA).