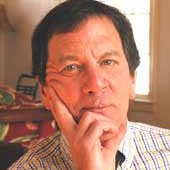 Author, Columnist and Asia Editor, The Globalist
Patrick Smith has been a correspondent, editor, critic, and essayist for more than three decades, chiefly in Asia. He has also lectured widely on journalism and foreign affairs.
He served as the Hong Kong correspondent of the International Herald Tribune and later its Tokyo bureau chief. In 1985, he received the first of two Overseas Press Club awards, this one for best foreign economic reporting. While in Japan, he also wrote "Letter From Tokyo" for the New Yorker.
Mr. Smith's second book, Japan: A Reinterpretation (Pantheon, 1997) won an Overseas Press Club award for the best book on foreign affairs. It was also a New York Times Notable Book of the Year and won the Kiriyama Book Prize.
In 2010, he published a volume of essays, Somebody Else's Century: East and West in a Post-Western World (Pantheon, 2010). He continues to contribute commentary and essays to a variety of publications.
His book Time No Longer: Americans After the American Century was published by the Yale University Press in May 2013.