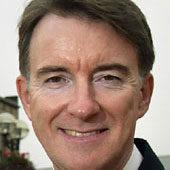 Former EU Trade Commissioner
Peter Mandelson has been a member of the United Kingdom's House of Lords since 2008. He also served in Prime Minister Gordon Brown's Cabinet from 2008 to 2010. Before that, Mr. Mandelson was the EU Commissioner for Trade from 2004 to 2008.
In 1999, Mr. Mandelson was appointed Secretary of State for Northern Ireland. Between 1999 and 2001 he negotiated the creation of Northern Ireland's power sharing government. In 1998, Peter Mandelson was appointed to the British Cabinet as Secretary of State for Trade and Industry. He was responsible for the introduction of Britain's first ever national minimum wage and oversaw new measures to strengthen regional development through the creation of regional development agencies.
In 1997, he was Tony Blair's Campaign Manager during his run for Prime Minister. In 1990, he was elected as member of parliament for the Northern English constituency of Hartlepool. He served until 2004 when he was appointed to the European Commission. In 1985, Peter Mandelson was appointed Labour Party Director for Campaigns and Communications. Previously, he had worked as an economist at the Trades Union Congress and as a current affairs TV producer.
He studied philosophy, politics and economics at St. Catherine's College, Oxford. As a young man he lived in Tanzania for a year, an experience which formed life-long impressions of Africa and the challenges of fighting poverty.