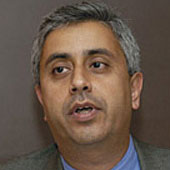 Advisor, Research Department, IMF
Prakash Loungani is an Advisor in the Research Department of the International Monetary Fund, where he heads the work on commodity markets and also serves as co-chair of the IMF's working group on Jobs & Growth.
He is an adjunct professor of economics at Vanderbilt University's Owen School of Management and at Johns Hopkins University School of Advanced International Studies (SAIS). Earlier, Mr. Loungani was an analyst for the Federal Reserve Board's International Finance Division and senior economist at the Federal Reserve Bank of Chicago.
His recent work has been published in the Journal of International Money and Finance, the International Journal of Forecasting and Energy Policy.
Mr. Loungani has a BA from the University of Bombay and an MA and PhD in economics from the University of Rochester.