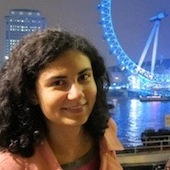 Freelance Journalist
Raluca Besliu is a freelance journalist based in New York City. She graduated from the University of Oxford with a master's degree in refugee and forced migration studies.
She earned her bachelor's degree in international relations at Vassar College, in Poughkeepsie, New York. She is originally from Romania.
Ms. Besliu's interests are in refugee and human rights issues, global politics, peace and post-conflict reconstruction. She can be followed on Twitter at @Raluca_Besliu.