Author
Reinhard Buetikofer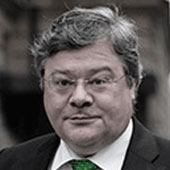 Vice Chairman of the Group of the Greens/ European Free Alliance, European Parliament
Reinhard Bütikofer is a Member of the European Parliament and Vice Chairman of the Group of the Greens/European Free Alliance.
In the 2009 elections, he headed the list of candidates for the German Alliance 90/the Greens. From 2002 until November 2008, he was the Green federal party's co-chairman.
Mr. Bütikofer works on issues of climate change, energy and economic policy, European foreign and security policy and transatlantic relations.
Prior to serving as Party Chairman, he was the National Executive Director of his party. Mr. Bütikofer also served as member of the Heinrich Böll Foundation board for many years and has been involved in the European Green Party for ten years.
In the 1990s, Mr. Bütikofer served as the State Party Chair of the Baden-Wuerttemberg Greens — after having served two terms (1988-1996) in the Baden-Wuerttemberg State Assembly where he focused on budgetary and financial policy. Between 1984 and 1988 he was a member of the Heidelberg city council.
Mr. Bütikofer is a board member of the Berlin Aspen Institute, an advisory board member of the American Jewish Committee's Ramer Center in Berlin, a member of the German-Chinese Dialogue Forum and a member of the European Green Foundation.
He studied philosophy, history and ancient history at Heidelberg University and has three daughters.