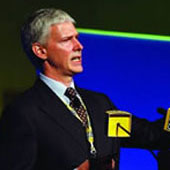 Chief Economist, Blackhorse Asset Management
Richard Duncan is the chief economist at Blackhorse Asset Management.
Since beginning his career as an equities analyst in Hong Kong in 1986, he has served as a global head of investment strategy at ABN AMRO Asset Management in London, worked as a financial sector specialist for the World Bank in Washington D.C., and headed equity research departments for James Capel Securities and Salomon Brothers in Bangkok.
Mr. Duncan also worked as a consultant for the IMF in Thailand during the Asian Crisis
In addition to "The Corruption of Capitalism", he is also the author of "The Dollar Crisis: Causes, Consequences, Cures", the bestseller that accurately predicted the global economic crisis that began in 2008 and the governments' unorthodox policy response to it.