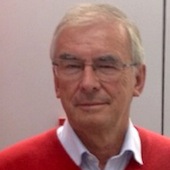 UK Chairman, SCCO International
Robert Bischof, a native of Germany, has lived and worked in Britain for 40 years. He is currently UK Chairman of the consultancy group SCCO International, Vice President of the German British Chamber of Industry & Commerce, Chief Economic Advisor of German Industry UK and Chairman of 4Navitas (Green Energy Solutions) Ltd, the British wind turbine manufacturer.
In 1967, he set up a new subsidiary for Jungheinrich AG, Hamburg in Britain and later became Non-Executive Chairman. In 1991, he accepted German Chancellor Helmut Kohl's call for 100 selected managers to assist with the restructuring and privatization of East Germany's ailing industries.
In 1998, the German President honored Bischof with the Federal Order of Merit for his "extraordinary contribution" to Anglo-German relations. He was an Adviser to John Smith, the former Labour leader, as well as a Member of the Commission for Public Policy and British Business, which determined much of New Labour's economic policy.
Bischof was trained as a merchant banker and received his Bachelor's degree in Economics from the University of Hamburg.