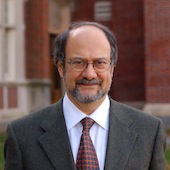 Editor, American Prospect
Robert Kuttner is the co-founder and co-editor of The American Prospect magazine, a senior fellow at the think-tank Demos, and professor of public policy at the Heller School for Social Policy and Management at Brandeis University.
He was a longtime columnist for BusinessWeek, and continues to write columns for the Boston Globe, the New York Times international edition, Huffington Post and Reuters. He was a founder of the Economic Policy Institute and serves on its board.
Mr. Kuttner is author of ten books, including the just published Debtors' Prison: The Politics of Austerity Versus Possibility (Knopf, 2013), which the New York Times Book Review featured as an Editors' Choice, and the 2008 New York Times bestseller Obama's Challenge: American's Economic Crisis and the Power of a Transformative Presidency (Chelsea Green, 2008).
His other writing has appeared in the New Yorker, the New York Review of Books, the Atlantic, New Republic, Foreign Affairs, Harvard Business Review, New Statesman, Dissent, Columbia Journalism Review and Political Science Quarterly. He has contributed major articles to the New England Journal of Medicine as a national policy correspondent.
He is the two-time winner of the Sidney Hillman Journalism Award, the John Hancock Award for Business and Financial Writing, the Jack London Award for Labor Writing and the Paul Hoffman Award of the United Nations Development Program for his work on social justice and economic efficiency. He has been a Guggenheim Fellow, Woodrow Wilson Fellow, German Marshall Fund Fellow, Radcliffe Public Policy Fellow and John F. Kennedy Fellow.
Mr. Kuttner was educated at Oberlin College, the London School of Economics and the University of California at Berkeley. He has taught at Brandeis, Boston University, University of Oregon, University of Massachusetts and Harvard's Institute of Politics.