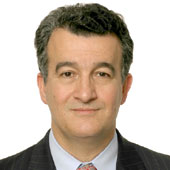 Former Executive Director, World Bank Group
Rogerio Studart is a Nonresident Senior Fellow at Brookings Institution, a Senior Visiting Scholar at Boston University and a Distinguished Fellow at the Global Federation of Competitiveness Councils.
Mr. Studart was previously an Alternate Executive Director to the World Bank Group, representing Brazil, Colombia, the Dominican Republic, Ecuador, Haiti, Panama, the Philippines, Suriname and Trinidad & Tobago in the World Bank Group's Board.
He is a member of the Committee on Development Effectiveness Sub Committee, chairman of the G-24 (since October 2009), and represents Brazil at the IDA-16 Replenishment meetings.
As executive director, Mr. Studart was a member of the Budget and the Personnel Committees and Chairman of the Ad-Hoc Committee on Rules for the 2008 Regular Election of Bank and MIGA Executive Directors. He also served as vice-chairman of the G-24 from March 2008 to October 2009.
Mr. Studart participated in various meetings of the UN General Assembly on trade and financing for development and represented Brazil at the meetings leading to the IDA-15 Replenishment as well as at the G-20 Working Group IV.
Prior to his appointment as executive director at the World Bank Group, Mr. Studart served also as executive director for Brazil and Suriname at the Inter-American Development Bank and the Inter-American Investment Corporation. From 2003 to 2004 he worked as financial markets specialist at the Inter-American Development Bank.
Earlier in his career, Mr. Studart held positions with UNECLAC, UNCTAD, the Brazilian Institute of Statistics and Geography (IBGE) and Chase Manhattan Bank in Brazil.
He is an economist by training and holds a Ph.D. from the University of London. He has published books and articles on macroeconomics, finance and development finance. He also holds a professorship with the Institute of Economics at the Universidade Federal do Rio de Janeiro.