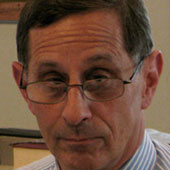 Foreign Editor, McClatchy Newspapers
Roy Gutman, foreign editor at McClatchy Newspapers, has been a foreign affairs journalist in Washington and overseas for four decades. He worked at Newsday for more than 20 years, at Reuters for 12, and had briefer stints at Newsweek and UPI.
While a Newsday Europe correspondent, Mr. Gutman's reports on "ethnic cleansing" in Bosnia-Herzegovina, including the first documented accounts of Serb-run concentration camps, won the Pulitzer Prize for international reporting (1993), the George Polk Award for foreign reporting, the Selden Ring Award for investigative reporting, the Hal Boyle award of the Overseas Press Club, the Heywood Broun Award of the Newspaper Guild, and a special Human Rights in Media award of the International League for Human Rights.
In 2002, he was a co-winner of the Edgar Allen Poe award of the White House Correspondents' Association, and in 2003, the National Headliners First Prize for Magazines and the Society of Publishers in Asia awards for excellence in magazines and reporting.
Mr. Gutman is the author of "Banana Diplomacy" (1988) and "A Witness to Genocide" (1993). He is also the co-editor, with David Rieff and Anthony Dworkin, of "Crimes of War: What the Public Should Know."
Mr. Gutman's latest book, "How We Missed the Story, Osama Bin Laden, the Taliban, and the Hijacking of Afghanistan", was published in January, 2008.