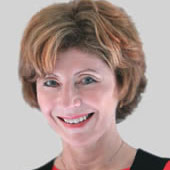 Editor and Communications Director, Fung Global Institute
Sarah Monks is an editor and the communications director at the Fung Global Institute in Hong Kong. After earning a B.A. degree at the University of Sydney, she began a career in journalism at the Sydney Morning Herald. In 1978, she relocated to Hong Kong and joined the staff of the South China Morning Post, rising to the position of deputy editor.
From 1986 to 2006, Ms. Monks worked for the Hong Kong Trade Development Council, first in its London and New York offices, then overseeing its global corporate and media communications. After leaving the Council in 2006, she returned to writing. Her book, Toy Town: How a Hong Kong Industry Played a Global Game, on the history and future of Hong Kong's toy industry, was published in 2011.