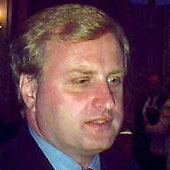 President of the Canada-China Business Council
Sergio Marchi is the President of the Canada-China Business Council, a Senior Business Advisor for a Canadian law firm — and the Chairman of the Canadian Services Coalition.
In August 1999, Mr. Marchi was appointed as the Canadian Ambassador to the World Trade Organization (WTO) in Geneva. While serving there for five years, he was elected as the Chairman of the WTO General Council.
In March 2004, Mr. Marchi served as a Commissioner on the UN Global Commission on International Migration.
Mr. Marchi started his career in politics in 1982 when he was elected as a Toronto City Councillor. He was elected to the House of Commons as a Member of Parliament in 1984. He also served as a federal Cabinet Minister in Citizenship and Immigration, Environment and International Trade.
Besides his political activities, Mr. Marchi also serves as a member of several non-profit boards.
Born in Argentina, Mr. Marchi was educated at St. Basil's College — and received his honors degree from York University in Toronto.