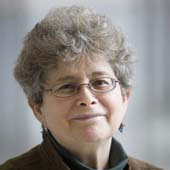 Senior Scholar, Woodrow Wilson International Center for Scholars
Sonya Michel is a senior scholar at the Woodrow Wilson International Center for Scholars in Washington, D.C. She is also a professor of history at the University of Maryland. Her research focuses on child care, work-family balance, care work and old-age security, as well as race and gender issues, immigration and civil society.
Ms. Michel's publications include "Civil Society and Gender Justice: Historical and Comparative Perspectives," co-edited with Karen Hagemann and Gunilla Budde (Berghahn, 2009), "Child Care at the Crossroads: Gender and Welfare State Restructuring," co-edited with Rianne Mahon (Routledge, 2002, and "Children's Interests/ Mothers' Rights: The Shaping of America's Child Care Policy" (Yale University Press, 1999).
She is a founding co-editor of the journal Social Politics: International Studies in Gender, State and Society, which is published by Oxford University Press. She has taught at the University of Illinois, Harvard and Princeton.
She has held Fulbright, Wilson Center and Bunting/Radcliffe Institute Fellowships. She earned her Ph.D. in American civilization at Brown University.