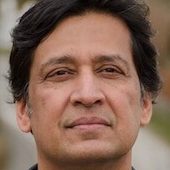 Tabish Khair is an author and associate professor in the Department of English, University of Aarhus, Denmark
A few of his critically-acclaimed books include "Filming: A Love Story," "The Thing About Thugs," "How to Fight Islamist Terror from the Missionary Position" and "Just Another Jihadi Jane."
His collection of poetry includes "Where Parallel Lines Meet and Man of Glass" and studies titled "The Gothic" and "Postcolonialism and Otherness and The New Xenophobia."
Khair has been awarded the All India Poetry Prize and his novels have been shortlisted for more than a dozen major prizes, including the Man Asian, the DSC Prize, the Sahitya Academy Award and the Encore.
Khair has been a Leverhulme Guest Professor at Leeds University, UK, and held fellowships at JNU, Delhi University, Hong Kong City University and Hong Kong Baptist University (China), York University and Cambridge University (UK) among others.
He recently published a poetry pamphlet, Quarantined Sonnets (Kitaab, Singapore), on the pandemic, with profits being donated to a migrant worker charity. He is currently finishing a speculative post-pandemic novel, titled The Body by the Shore.
Khair was born in 1966 and educated in Gaya, a town in Bihar, India.