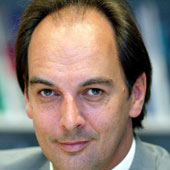 Columnist, Financial Times Deutschland
Thomas Fricke has been with the Financial Times Deutschland since the start in 1999. He writes a weekly column on the business cycle, economic policy and international economic issues.
Since November 2002, he has been Chief Economist responsible for the Economics Page and Comments of the FTD. In January 2007, he launched the blog "WirtschaftsWunder."
Mr. Fricke started his carreer as a journalist at the Berlin-based Tagesspiegel. Previously, he was economics correspondent at the weekly magazine Wirtschaftswoche in Düsseldorf and wrote a monthly column at Manager Magazin in Hamburg.
He studied Economics and Politics in Aachen, Germany, and Paris, where he got a diploma at the Institut d'Etudes Politiques de Paris and at the Université Paris I – Sorbonne. Afterwards, he worked as a researcher at the Economics Institute OFCE in Paris.