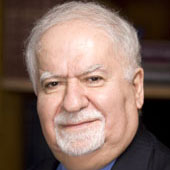 President, Carnegie Corporation of New York
Since 1997, Vartan Gregorian has served as president of Carnegie Corporation of New York, a philanthropic institution founded by Andrew Carnegie in 1911.
Previously, Mr. Gregorian was president of Brown University (1989-97) and president of The New York Public Library (1981-89). Earlier, he was the founding dean of the Faculty of Arts and Sciences at the University of Pennsylvania and also served as provost.
He is the recipient of numerous fellowships, honorary degrees and awards including the Ellis Island Medal of Honor, the American Academy of the Institute of Arts and Letters' Gold Medal for Service to the Arts, the National Humanities Medal and the Medal of Freedom, the nation's highest civilian award.
In 2009, President Barack Obama appointed him to serve on the President's Commission on White House Fellowships. He is the author of The Road to Home: My Life and Times (Simon & Schuster, 2003), Islam: A Mosaic, Not a Monolith (Brookings, 2003), and "The Emergence of Modern Afghanistan, 1880-1946" (Stanford, 1969).