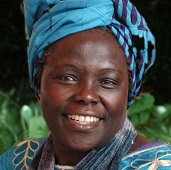 Author and Recipient of the 2004 Nobel Peace Prize
Wangari Muta Maathai was the Presiding Officer of the Economic, Social and Cultural Council (ECOSOCC) of the African Union, based in Addis Ababa, Ethiopia, which advises the African Union on issues related to African civil society.
In 1976, Ms. Maathai founded the Green Belt Movement, a grassroots organization whose main focus is helping women's groups plant trees to conserve the environment and improve quality of life.
Ms. Maathai was internationally recognized for her persistent struggle for democracy, human rights and environmental conservation. She and the Green Belt Movement received numerous awards, most notably the 2004 Nobel Peace Prize.
Ms. Maathai served on the boards of several organizations and was elected to the Kenyan Parliament in 2002. She was appointed assistant minister for the environment by President Mwai Kibaki in 2003.
Her autobiography, "Unbowed," was published in 2006 by Alfred A. Knopf. She died on September 25, 2011.
Photo credit: Martin Rowe