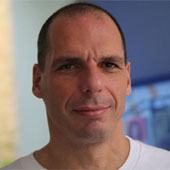 Greek Finance Minister
Yanis Varoufakis is the Greek Finance Minister and has been a parliamentary member of the ruling Syriza party since January 2015.
Mr. Varoufakis formerly headed the Department of Economic Policy at the National and Kapodistrian University of Athens.
Mr. Varoufakis received his doctorate in 1987 at the University of Essex, in the United Kingdom. From 1990 to 2002, he was a senior lecturer in economics at the University of Sydney, in Australia. Since 2000, he has been a professor of economic theory at the University of Athens and director of the university's doctoral program in economics.
From 2004 to 2007, he served as economic adviser to George Papandreou.
Mr. Varoufakis is the author of The Global Minotaur: America, the True Origins of the Financial Crisis and the Future of the World Economy (Zed Books, 2011).