Thirty Years After the Wall Fell: Part 1 — The Baltics and Kaliningrad
How the market economy changed lives: East Europeans assess 30 years of freedom.
November 8, 2019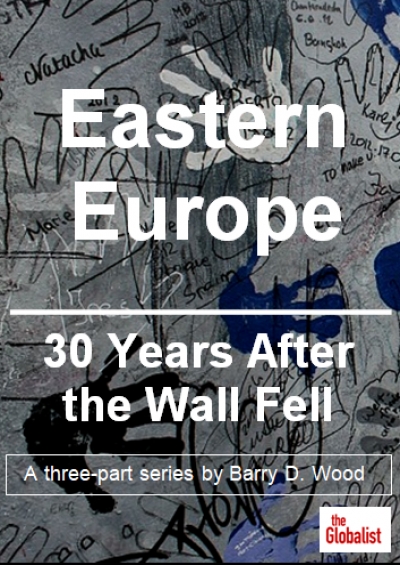 My engagement with Europeans who grew up on the east side of the Berlin Wall began in the 1990s. At the time, I was a correspondent based in Prague, which gave me the opportunity to travel throughout the region.
Later, in an effort to more directly connect with ordinary people in a dozen diverse post-communist lands, I traveled 2,500 miles by bicycle from Estonia to Albania. During that journey, I met dozens of wonderful people who generously extended hospitality to a lone cyclist.
I have stayed in touch with several of them and here are their personal stories of living through momentous change.
---
---
Part 1: The Baltics and Kaliningrad
The three Baltic states have done very well since communism ended, although Latvia experienced a deep recession in 2008.
All three countries, now in the EU and the euro currency zone, have lost thousands of young people, lured west by higher wages and increased opportunities.
Juris Paiders, professor, Riga, Latvia
Juris was editor of Dienas Bizness newspaper when I first visited his office in a high rise across the river from downtown Riga. In 1989 he was doing his service in the Red Army. Since then his life has changed completely.
In the 90's he delighted in telling me that his children were among the first in Latvia who were not required to study the Russian language at school. Juris is now a professor of geography at the University of Latvia.
"Every change brings something good and also bad. The collapse of the Soviet system gave us many freedoms. We can determine our life without begging from the state for even basic benefits.
We can do as we please without fear of punishment. We can change our place of residence without having to obtain permission from local communist party bosses. We can travel and leave the country to live elsewhere.
We can receive and share information. But we've lost things as well. Social and economic equality has been replaced by insurmountable inequality. Common values have been eroded.
The solidarity between social groups and generations has disappeared. And our moral values have deteriorated. Beyond that, essentially Latvia is dying out, with so many of our people emigrating."
Heikki Saller, public relations consultant, Tallinn, Estonia
Heikki was part of a two-week long journalism seminar I led in 1993. When we sat in a circle introducing ourselves, he proudly took from his pocket a new one kroon Estonian note that had replaced the Russian ruble.
His English was rough but his optimism was palpable. In the late 90s Heikki switched from journalism to start what has become a successful public relations firm.
"In 1989 I was 20 years old and had graduated from a professional school as a TV repair man–Russian TVs, of course. At that time the progressive changes going on in the communist world to me seemed reasonable.
But then after the first freedom events in Estonia, people began to understand that the communist era would soon end. When I finally visited Berlin a couple years ago and saw the remnants of the wall, I wondered how it was possible to physically divide such a big city.
Being 20 years in public relations, I see now that communist ideology was great PR because for decades people lived for it, convinced that communism was superior even though deep down they didn't believe in it."
Saulius Rozinskas, entrepreneur, Klaipeda, Lithuania
Saulius is a bicycle entrepreneur. We met in 2001 at a bike shop where he gave me advice about riding the great sand dune from Klaipeda into Russia's Kaliningrad district.
When I returned to Lithuania in 2007 to begin writing my book he arranged short term accommodation for me. By then he had started his own bicycle touring company.
It's been a great success. He now has dozens of bicycles, a new transport van, and clients from all over the Baltics, Scandinavia, Holland and Germany.
His wife runs the business side of the operation. His two grown daughters have emigrated, one living in England, the other in Brazil.
"Communism ended right after I finished secondary school. At the time I was living in a small town in central Lithuania. I went to Klaipeda to study tourism management, lucky that I didn't have to spend two or three years in the Soviet army!
At this seaport city where I've lived ever since, I got involved in an environmental non-governmental organization (NGO). My interest was promoting environmentally friendly bicycle transport and developing tourism cycling routes in Klaipeda, Lithuania and the Baltic States.
During my studies and later with my wife and two daughters I could freely travel in Europe and even worldwide without having to ask anybody from the Soviet KGB for permission.
After the 2008/2009 financial crisis the bicycle touring company I was working for went bankrupt and I was able to start my own company doing the same thing."
Andrey Mukhin, ornithologist, Rybachy, Kaliningrad, Russia
On my bicycle journey I was fearful about crossing Russian Kaliningrad, old East Prussia. Even though I had twice before been in Kaliningrad the oblast is poor and I was worried about my safety as a lone traveler.
Those fears proved unfounded. Near Zelenogradsk on the magnificent Courland sand dune out in the Baltic Sea, I arrived at Europe's first bird branding station. Founded in 1901, it was originally German but now Russian.
On a subsequent visit I met Andrey Mukhin, a young PhD scientist, who showed me around.
"I was in my teenage years when communism ended. Everything around was changing rather quickly. I was opening to fascinating world and the country was doing the same.
The future seemed wide open. One thing I remember well was in mid school we didn't have to learn English. What for, I thought. I didn't plan to be a sailor (and that was the only way someone like me from an ordinary family in a small town could ever leave the country).
So why would I spend my precious time for something totally useless instead of reading science fiction books or playing games on the streets with my mates. But then changes came like a tsunami.
Suddenly we had Hollywood movies, books published in the west and we could even argue with our teachers. I now had the chance of communicating with people all over the globe, and as a result I learned English."
More on this topic