France and Its Jews
France must act quickly to stop a new wave of anti-Semitism.
January 18, 2015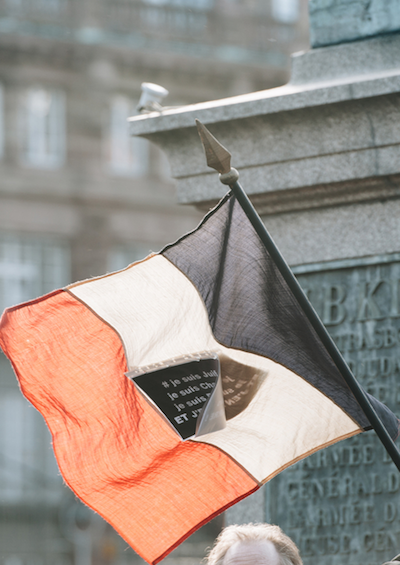 Hadrian / Shutterstock.com
One of the cartoonists murdered at Charlie Hebdo was 80-year old Georges Wolinski. He and the other magazine's star cartoonists had made their name (and money) by being in mainstream papers and journals.
Wolinski, for his part, was the chronicler of sexual needs and frustrations, which he detailed over decades in gentle albums which mocked the hopes and letdowns of all relations between men and women. His parents had gone to French Tunisia in the 1930s to escape the anti-Semitism of Poland.
Still witty with his drawing, he was butchered in his ninth decade by two men groomed to hate the mocking of those who set themselves in authority over us – above all those who claim to dictate behavior in the name of god.
A hidden motive
Wolinski's killers, the Kouachi brothers may not have known he was Jewish. But when their co-conspirator headed for a kosher store for the final shoot-out, there was no question that this was about Jews.
After writing in the condolence book for the murdered journalists in rue Nicole Appert (years ago I was president of the UK Union of Journalists before going into politics), I walked a few hundred meters to eat Europe's best falafel in the rue de Rosiers. It is located in the heart of Paris's Jewish quarter.
In 1982, it was here that six were killed and 20 wounded when grenades were thrown into the street's busiest Jewish delicatessen restaurant.
Two years earlier, in 1980, six Jews were killed at a synagogue in Paris. The then-prime minister, Raymond Barre, deplored the fact that "innocent French citizens had been killed as well as Jews." He made it sound as if the latter were not really French.
These days, in the rue de Rosiers, there are once again tough if polite security once-overs at the door. Still, the atmosphere was noisy, chatty and really rather normal.
A new wave of anti-Semitism
I talked to four young Jewish women, all students at the Paris Conservatory. They had 1940s hairstyles and dresses and had been singing at a commemoration of the 1945 liberation of France at the Museum of Paris just down the street. Two of them shrugged their shoulders when I asked if they were fearful about anti-Semitism and for their future, or if they were thinking of leaving France for Israel.
"No, it's bad on both sides. Islamaphobia is as bad as anti-Semitism," said one.
"I don't like it. I do worry in the street. But no, I don't think going to Israel is the answer," said the quiet one.
These women are France's future and the future of Jews in Europe. If they [Jews] give up on France, then Islamist communitarianism has won.
The point was made in the French parliament, the National Assembly. On January 13, 2015, Prime Minister Manuel Valls delivered the most forthright denunciation of anti-Semitism ever heard from a European head of government since 1945.
"Can we accept that French citizens are killed because they are Jews? There is a new anti-Semitism based on a hatred of the state of Israel, which promotes hatred of the Jew, of all Jews."
"We must find words to combat this unacceptable anti-Semitism. Let us tell the world. Without the Jews of France, France would no longer be France. Let us say that clearly — and strongly. We have not in the past. We have not been angry enough."
The prime minister went on to say: "How can we accept that in some schools and colleges, it is impossible to teach the Shoah? How do we accept that when a child of seven or eight is asked by his teacher, 'Who is your enemy?' The child replies, 'The Jew?' When they attack the Jews of France, they attack France and they attack the conscience of the world."
France and Palestine
In those few, clear sentences, Valls made atonement for the words of Charles de Gaulle after the 1967 six-day war when the then-French President had sneered at Jews "as an elite people, arrogant and domineering."
Earlier in his speech, Manuel Valls listed the sources of Islamist violence as Yemen, the Horn of Africa, the Sahel, Mali and the Afghanistan-Pakistan region. He failed to mention Hamas, even though the Palestinian Islamist movement explicitly calls on its followers to "kill Jews" in its Charter and says Israel must disappear.
France has tried to maintain political and commercial friendships with anti-Israel Arab states. After the most recent acts of atrocity, Paris is now army-patrolled, especially in Jewish quarters.
The attack on the very idea of freedom of expression, of the Voltaire Enlightenment and of the rights of man pronounced in the French Revolution may finally wake up France to the danger the world faces from the Israel and Jew-haters now killing at will.
More on this topic
Takeaways