Macron at the Barricades
Is it all downhill for President Macron from here on out? The early political fortunes of two other major Western reform politicians – Margaret Thatcher and Bill Clinton – should provide comfort.
February 19, 2019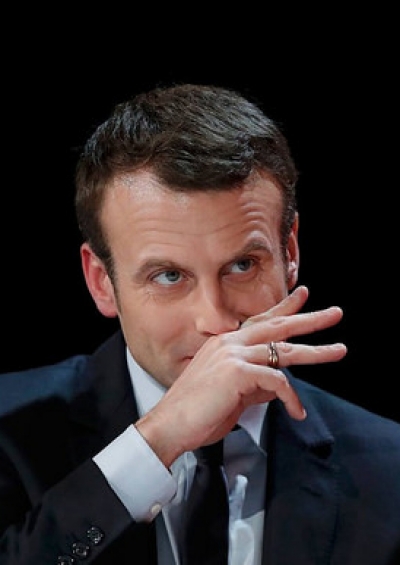 Credit: Jeso Carneiro www.flickr.com
If 2017 was the annus mirablis for President Emmanuel Macron, 2019 appears to be his annus horriblis. The Gilets Jaunes – or Yellow Vests — are hard to master and unimpressed by Macron's 2,330 words long letter to the nation or his town hall meetings up and down France.
Meanwhile, Italy's new strongman, Matteo Salvini, at home and abroad always sensing political weakness wherever it exists and using it for his own political advantage, announces that Rome is forming an axis with Warsaw against France.
That matters because Poland and Italy were long Europe's most Francophile nations.
Now under new political management, Rome is keen to weaken Macron who is seen as outrageously pro-European.
Salvini's side-kick, Italy's Deputy Prime Minister, Luigi De Maio, recently went to France to meet with one of the leaders of the Yellow Vests, a notorious anti-Muslim demagogue who has called for Macron to be guillotined and urged an insurrection to overthrow the elected French president.
It was this provocation that led Paris to withdraw its ambassador from Rome.
Overdue reforms
Like two former French presidents, Valéry Giscard d'Estaing and François Hollande, Emmanuel Macron arrived at the Elysée Palace with a catalogue of overdue reforms.
However, France is a nation that is devoted to popular revolts on a regular basis, and occasionally a revolution. Alas, dedication to "reformisme" – that is, a process of undertaking long overdue reforms – evidently is not a word in the French political lexicon.
So is it all downhill for President Macron until 2022? It might appear so, especially as Macron has few friends in the media.
In addition, in the effort to preserve its own political relevance, the traditional right in France, as elsewhere in Europe, is getting close to making a pact with the extreme right or at least adopting so much of their language and tone that at times it is hard to tell the difference.
Not unlike Corbyn in the UK, the French left thinks that destroying Macron will usher in a moment of political opportunity for statist socialism.
Macron: The left's piñata
It is extraordinary to observe the level of venom that Macron now generates on the left. At the December congress in Lisbon of the Party of European Socialists, Udo Bullmann, a German social democrat who is president of the socialist members of the European Parliament, devoted much of his speech to attacking Macron.
Given the number of enemies of the left rising in Europe from Matteo Salvini to Marine Le Pen and new xenophobic right parties like VOX in Spain or AfD in Germany, one might have thought that Mr. Bullmann would attack these dark forces – and not somebody on the middle ground.
But no, as with much of the left media in France, the only enemy is Macron.
The left in Europe is right to say that Macron is not a socialist. But are they correct to drag him down, especially given that he stands with them against the emergence of a different Europe shaped by Salvini, Orban and Le Pen?
This consideration should matter greatly to them. After all, the right-wing xenophobic populist forces want to use the European Parliament elections in May 2019 to prove that any reformist like Macron is wrong.
Their aim is to put what Pope Francis has called the "resurgence of nationalistic tendencies going back to the period between the two World Wars" in the driver's seat again.
Macron is delivering
What gets completely overlooked amidst all this entirely self-serving, short-term and entirely tactical jockeying are the economic facts on the ground. And they underscore that Macron is actually delivering on his promises.
According to the France's national statistics agency, 691,283 new companies were created in France in 2018 — 100,000 more than in 2017. The number of self-employment companies under "micro-entrepreneur" scheme increased by more than 25%.
What about Macron himself? He might at least take comfort in the twisting political fortunes of two other major reform politicians – Margaret Thatcher and Bill Clinton.
Two years after entering Downing Street in 1979, Mrs. Thatcher thought she was finished. She had the worst ratings of any British prime minister in the history of polling.
There had been major riots in London and Liverpool in 1981 as result of her economic reforms with buildings burnt down and police attacked. The biggest ever strike by UK steelworkers took place in 1980-81. Her advisors even thought it meant the end of the Conservative Party.
Clinton's reforms
A decade later, Bill Clinton saw his Democratic Party wiped out in the 1994 mid-term elections, just two years after he entered the White House and had embarked on a series of tough economic reforms based on cutting deficits and taxes.
The Republicans closed down the U.S. federal government, much as President Trump is doing now. Clinton's poll ratings were as low as Macron's are today. The Republicans moved to the hard right believing the brief Clinton reign was over.
In fact, Clinton stuck to his economic reform policy. The United States under his political management ended up creating 22 million new jobs in the eight years of his presidency. With public debt reduced, he could spend the money saved on education and health care.
Macron is neither Thatcher nor Clinton. But he is the first anti-populist EU leader to criticize the "ultra-liberalism of the European Commission." Unlike all EU's social democratic heads of government, he has forced through a major strengthening of the EU's so-called posted workers directive.
It may be too much to hope that Macron should look at the history of Bill Clinton and Margaret Thatcher. Their cases do, however, suggest that being unpopular in the early period of a mandate can be the best thing to happen to an elected leader.
If nothing else, this historically proven development should help Macron cope with his current unpopularity in the polls. The low ratings French voters express there about their young President are probably more reflective of expressing a collective frustration about the state of France – and hence themselves – than they are about Macron himself.
The Yellow Vests
The young president has faced down the Yellow Vest who are busy discrediting themselves with attacks on journalists covering their protest and this week an attack in Paris on Alain Finkelkraut, a leading French philosopher, who was called a "dirty Jew" by Yellow Vest militants.
Their support is dwindling. Meanwhile Macron has had a surge in opinion polls gaining 9 points since December according IFOP, the main French pollster.
His party is now ahead of Marine Le Pen's for the May European Parliament elections. Like Clinton and Thatcher writing off Macron is premature.
More on this topic