India and the Great Game of Energy
Will signing two big energy deals with Russia irritate both China and the U.S.?
December 11, 2014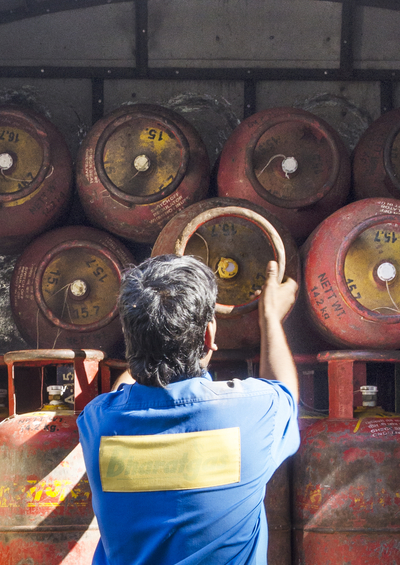 Pete Burana / shutterstock.com
India has negligible resources of oil and gas in the context of our future needs and from the perspective of the currently available extraction technology.
If 25% of our energy needs are to be met by gas – one of the cleanest fossil fuels, we will have to ramp up our gas imports. Today, households still cook with wood, charcoal or kerosene because domestic gas supply is so constrained.
Enter Russia: President Putin could be the White Knight meeting India's liquefied natural gas (LNG) demand. Of course, selling gas to India is a propitious move, as the post Ukraine sanctions are hurting Russia and it needs to have reliable, long term arrangements for selling gas and oil.
Welcoming India into the fold
India is not a party to the sanctions and it is in its self-interest to focus on energy during the Modi-Putin talks in New Delhi this week.
Russia hasn't exactly been sitting on its hands to counter the U.S. sanctions. It has already mended fences with China, with which it has concluded oil and gas supply deals.
More generally, it is leaning towards China as a natural partner in the global clustering against the U.S.-led set of allies. Russia would like to induct Iran and India as partners in this grouping.
India is a marginal player in this "great game." It would be a complete mistake for India to barter our acceptability to all sides by putting our eggs into one basket. There is little reason for India to choose between the Great Powers.
Just consider the case of Australia, a close U.S. ally. It relies on China to absorb its energy exports and keep its economy humming.
It is to India's advantage that we have extraordinarily good relations with Japan and other East Asian allies of the U.S. A long-term contract for Russian LNG can be used to swap Russian LNG cargos (meant for India) with LNG coming from Qatar to Japan, cutting transportation costs for both.
This could become a trilateral arrangement between Russia, Japan and India – once the sanctions get diluted.
A nuclear family
Nuclear energy is the second area where India badly needs Russian help. India needs an additional 10 GW of nuclear power. The state-owned Nuclear Power Corporation of India (NPCIL) is the monopoly operator of all civil nuclear assets in India.
It has lobbied to ensure that the Nuclear Liability Act, approved by the Indian Parliament in 2010, exempts the "operator" from all risk and liability in the event of a nuclear incident and loads it instead on equipment suppliers and project developers.
This has effectively ensured that no private insurance company is willing to bear the unlimited risk of a nuclear mishap. Private banks would not finance such a project either.
The only players left in the field could be state-owned corporations, both Indian and Russian. State-owned General Insurance Corporation of India could provide insurance cover and a Russian state-owned project developer could build the plant.
Implicitly, the risk will devolve onto the governments of India and Russia and the world of bank finance would view this then as a matter of sovereign — hence bankable risk.
Clearly, this is not a commercially palatable deal, but it can be the classic outcome of G2G cooperation, in the spirit of the Russo-India friendship. Russia has helped India out of a jam of its own making before: Bangladesh's liberation in 1971 is one such example.
Will sealing these two energy deals by India with Russia irritate both China and the U.S.?
Well, we Indians are perpetual wafflers and fence sitters. We gladly hop from one transactional advantage to another. This is perfectly aligned with our relatively diminutive economic stature and pressing domestic concerns. No one expects anything different from us.
There is no reason to blur mutual economic self-interest with ideological compatibility. To be sure, Washington won't be happy.
Waking the dragon?
What about China's perspective? It makes sense for India to use its growing markets to bind China more firmly to the India growth story — much like China itself has done vis-à-vis the United States. It is a matter of false ego on the part of India to try to keep China out of South Asia, just to protect our "dominance" in the region.
Regional dominance has to have economic underpinnings. China has the fire power. We don't. Trying to wean our neighbors away from China can end up impoverishing India.
Regional trade and output enhancing strategies have to include India simply because of its size and central location. It provides assured access for Nepal and China to the Indian Ocean.
The nations of East Asia are keen on assured access – via Bangladesh, India, Pakistan and Afghanistan – to Turkey. In short, all of these links serve to bind the economic interests of our neighbors with our own.
India has to boogie with the United States, China and Russia, but openly recognize that, in this group, we are the "little fish." We can be a "large fish" – but only in some other small pond with shrinking water levels. The question is which pond serves our national interest better.
More on this topic