Who is Janet Yellen?
Who is President Obama's nominee for Chair of the U.S. Federal Reserve?
October 9, 2013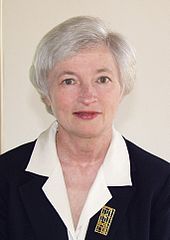 Janet Yellen. (Credit: Federal Reserve Bank of San Francisco.)
1. Janet Yellen has been the Fed's vice chairwoman since 2010. She became the frontrunner when Larry Summers dropped out.
2. Previous roles: president of the San Francisco Fed, White House adviser under Clinton, Fed governor in the '90s and a longtime U.C. Berkeley professor.
3. Yellen has long argued that markets benefit from regulation to prevent abuses and limit disruptions of economic growth.
4. No woman has ever led a major central bank anywhere in the world.
5. Yellen has said that she became interested in economics as a way of thinking logically about how to help people.
6. Married to fellow economist George A. Akerlof, whom she met while they were both staff economists for the Federal Reserve in the 1970s.
7. Yellen would be the first Democratic Fed Chair since Paul Volcker left in 1987.
From "Obama to Pick Yellen as Leader of Fed, Officials Say" by Jackie Calmes (New York Times)
More on this topic
Takeaways
If confirmed to be Chair of the US Federal Reserve, Janet Yellen will be the first woman to run a major central bank.