Modi's First Year: A German View
Europe is watching how Modi performs in moving India's economy ahead.
May 27, 2015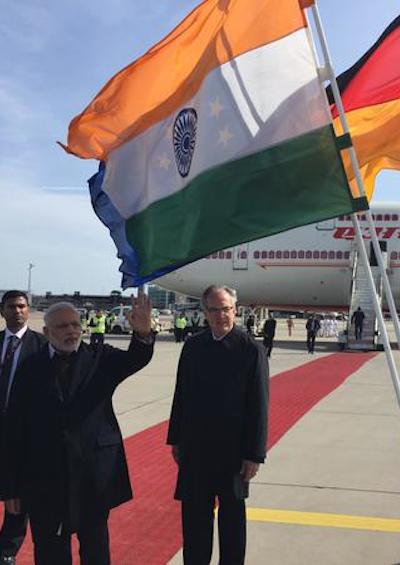 Indian Prime Minister Narendra Modi in Hanover Germany, April 2015. (Credit: Narendra Modi / Twitter)
In Europe, Narendra Modi is seen as a "can-do-politician," someone who gets the job done. From a public relations point of view, this image is much in line with what he wants it to be.
The most important event in this context has been Modi's recent visit to Europe to mark India's partnership at the Hannover Fair, the biggest industrial show worldwide.
Apart from signing various business deals and affirming healthy political relations, his trip also proved to be a publicity success.
For weeks, the metallic lion with the "Make in India" slogan punched on to its back decorated airports, railway stations and other communications hubs in Germany.
During their summit talks, Angela Merkel and Narendra Modi reconfirmed their "strategic partnership," a formulation that has become the cornerstone of German-Indian relations.
A "strategic" relationship?
With the focus on economic co-operation and projects promoting renewable energy to counter climate change, one could ask how "strategic" this relationship actually is in the classic sense of the word.
If we define "strategic" in the narrow sense of only political and military concerns, the relationship between New Delhi and Berlin (and most European nations, let alone the European Union) would qualify only as second rank.
On this front, India's (strategic) priorities have been well defined during Modi's first year in office: It's Asia first and the United States second. The immediate neighborhood also plays an essential role. For India, Europe, let alone Africa and Latin America, are also-rans.
The same lack of political priority is apparent on the other side, too. Europe is preoccupied with internal matters concerning the Euro, the swelling migration crisis and the war in neighboring Ukraine. Under the circumstances, India and its issues are far away, not only in a geographic sense.
Germany's interest in the region has further diminished with the pullback of its soldiers from Afghanistan.
Merkel's visit to India
The next big event on the German-Indian agenda will be Angela Merkel's visit to India in October. Narendra Modi will then once again be in the spotlight of German media interest for a few days.
The major themes that the Europeans expect to be addressed are the performance of the Modi government in moving the economy forward and how he positions India in the international climate talks.
The world at large wants to know whether India can replicate the economic success story of China and thus evolve into the new economic locomotive that will pull the world towards a brighter future.
Intriguing as this sounds, the realization of this scenario would undoubtedly also have an impact on energy consumption and, by extension, on carbon emissions.
One can therefore expect plenty of external "suggestions" that India should follow China and announce carbon cuts, as we move closer to the Paris COP conference later this year.
How to reconcile radical ecological principles with large scale industrial schemes and the "Make in India"-campaign will be one of the many challenges India and the Modi government will face.
The world will keep a close eye on Narendra Modi. The assessment thus far is that although he has provided a lot of fresh "air" and dynamism, executing his ideas and vision will be much harder.
Takeaways