Nelson Mandela: 95 Years of Fighting for Peace
Nelson Mandela (1918-2013): freedom fighter, political prisoner, President of South Africa, winner of the Nobel Peace Prize.
December 5, 2013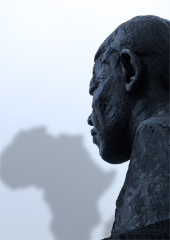 Nelson Mandela won the Nobel Peace Prize in 1993 for his work against apartheid in South Africa — the country where he served as prisoner and, later, as president. Mandela passed away on December 5, 2013, at the age of 95. Here, we present a collection of quotes, culled from his speeches and writings, that we first published in 2008 on the occasion of his 90th birthday.
On poverty…
"Like slavery and apartheid, poverty is not natural. It is man-made — and can be overcome and eradicated by the actions of human beings." (February 2005)
"While poverty persists, there is no true freedom." (February 2005)
"Overcoming poverty is not a gesture of charity. It is an act of justice. It is the protection of a fundamental human right, the right to dignity and a decent life." (July 2005)
On globalization…
"The globalization of the world has indeed made us the keeper of our brother and sister." (November 2003)
"There is growing recognition that unless and until Africans themselves are able to curb abuses of power, Africa will not have the peace and stability required to end poverty and to find its rightful place in a globalizing world." (May 2005)
On freedom…
"Freedom would be meaningless without security in the home and in the streets." (May 1995)
On education…
"Education is the most powerful weapon we can use to change the world." (July 2003)
"We live in a world where knowledge and information have made enormous strides, yet millions of children are not in school." (July 2005)
On courage…
"I learned that courage was not the absence of fear, but the triumph over it. The brave man is not he who does not feel afraid, but he who conquers that fear." (October 1995)
On his work and his legacy…
"After climbing a great hill, one only finds that there are many more hills to climb. I have taken a moment here to rest, to steal a view of the glorious vista that surrounds me, to look back on the distance I have come. But I can rest only for a moment, for with freedom comes responsibilities, and I dare not linger, for my long walk is not yet ended." (October 1995)
All quotes are from writings or speeches by Nelson Mandela. A collection of his speeches can be on nelsonmandela.org.
More on this topic