NSA on Steroids: Georgia Republic's Mass Surveillance
The Republic of Georgia offers an object lesson on the dangers of an out-of-control security apparatus.
October 19, 2013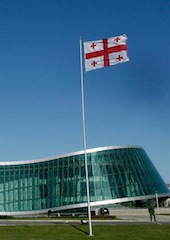 Interior Ministry, Republic of Georgia. (Credit: Chris Walker and Morgan Hartley.)
Yet another round of surveillance revelations from Edward Snowden are making the world headlines. Some proponents of the counter-terrorism security state have tried to downplay the accusations.
But much of the revelations so far have involved the U.S. National Security Agency dramatically overstepping its mandate and analysts abusing their powers. Where does it stop?
The former Soviet Republic of Georgia, after some initially promising steps toward democracy, has lately been backsliding toward autocracy. Now, Georgia offers an object lesson — and a timely one — on the dangers of an out-of-control security apparatus.
Consider the story of Irakli Absnadze. The Georgian man was a producer of regional news at TV9, the leading opposition media to Georgia's former government under President Mikheil Saakashvili's ruling party.
Irakli had produced a number of corruption stories about the administration. That had made him enemies in high places. But the TV producer never anticipated how they would try to discredit him. In August 2012, he found himself in a situation fit for a steamy spy novel.
The bait was Nodar Chachua, a TV9 colleague and Parliament correspondent. According to Irakli, Nodar was leaving the Capitol when two men he didn't recognize demanded that he get in a black car.
Nodar had been having an affair in hotel rooms around the city. In the backseat of the car, he watched himself having sex with his lover, filmed from a secret camera. He was told to open a PO box and await further orders. If he didn't follow those orders, he was told, the video would be put on the internet and sent to his family.
His blackmailers hoped to use Nodar to entrap his colleague, Irakli, into a similarly compromising predicament, thereby silencing both.
A vast blackmail operation
Nodar and Irakli were just two of the multitude of victims of a sweeping secret surveillance program conducted by Georgia's Saakashvili-aligned government. Blackmail by hidden government cameras, it turns out, was just the tip of the surveillance iceberg.
The small, former Soviet republic, which borders the Black Sea, had actually been running an NSA-style mass surveillance program with close to zero judicial oversight.
It became a weapon of politics, not of security. It provides a case study of what a large-scale surveillance program can do without proper checks, in the face of Nixon-like paranoia.
Its scope was revealed on April 29th of this year, when Georgia's new Interior Minister announced the discovery of more than 12,000 surveillance videos that had been collected over the past six years.
They were recorded onto 358 CDs, 54 of which covered the "private lives" of the recorded individuals—essentially sex tapes captured in hotels rigged with hidden cameras. The videos targeted everyone — not just the opposition, but the previous cabinet and their staff, and, of course, uncooperative journalists.
Attempting to foil the blackmailers
Nodar had been trapped by this system, but he had not yet given himself over to their threats.
When he opened the designated PO box and found an order to meet in front of the central police station at a specified time, he wore a wire and brought an unmarked TV crew. He hoped to identify the aggressors and get a home-run story that would incriminate the government.
He came close to his goal. The orders that Nodar received in the car were simple and direct. He was asked to make another sex video, in which he would seduce his male producer Irakli in a hotel room filled with hidden cameras.
The blackmailers, however, had outflanked his efforts at counter-surveillance. The TV9 crew captured no government IDs on the blackmailers, and the microphone that Nodar was wearing was neutralized by jamming equipment in the car.
All the journalists got was a license plate number, which they were able to trace to a car that belonged to the Ministry of the Interior.
The tactic with which they were trying to humiliate Iralki has a proven track record. Homosexual videos are especially powerful in conservative Georgia, a country that is almost entirely Christian Orthodox.
Opposition nearly as bad
Bizdina Ivanishvili's new government, whose Georgian Dream party took power in October 2012, in opposition to President Saakashvili, calls the sex tapes 'unacceptable.'
They have used the tapes' existence as a way to discredit and humiliate the former government, and to build a narrative of how much the new reform government has changed.
Yet, it was only in September of 2013 that their repeated promises to destroy the secret archive were partially fulfilled. In early September, 145 tapes out of 10,000 were destroyed, selected by a joint civil-government committee, and containing mostly sex footage. But few of the wire-tapping surveillance tapes that make up the vast majority of the archive were touched.
It might not matter much anyway; interior minister Garabashvilli admits that copies of the tapes are believed to be floating around with former officials in Saakashvili's United National Movement, many of whom left the country after losing their parliamentary majority in 2012.
Also, it remains a powerful blackmail tool for the new ruling party.
Earlier this year, a video from the archive showing Georgian political pundit Giorgi Paresashvili engaged in a gay threesome in a Brussels hotel room was leaked on the internet. Soon after the leak, it was revealed that Deputy Minister of the Interior Gela Khvedelidze, who had been in charge of safeguarding the database, had posted it.
The two were political opponents. Khvedelidze has since been fired and is under investigation, but was allowed to leave the country, rather than be detained.
The bigger picture
Regardless of whether or not the blackmail tapes are destroyed, that unseemly archive is only one corner of a much bigger surveillance network. The new government in Georgia has no plans to cut the state's massive eavesdropping program, which is similar to the NSA's — albeit less sophisticated and more invasive.
The government maintains a vast "blackbox" network that allows unfettered access to the content and metadata of almost all electronic communication in the country.
The equipment sits in the servers of Georgian telecommunication and internet providers. It allows the government to monitor up to 21,000 phone calls simultaneously.
Like the NSA's metadata collection operations, the program was a secret for years. Its existence was leaked last May by the CEO of Georgia's major cell phone network, Geocell, who called upon the government to put "better practices" in place.
But many already had an idea their conversations weren't secure. "My phone was listened to for years." insists Eka Gigauri, director of Transparency International – Georgia. "Everyone knows the government is listening."
As Snowden alleged with regard to the NSA, Georgia's judicial system provides little oversight over the country's surveillance activities. Police often access the blackboxes without warrants, which is legal if they can prove "urgency."
Even when requests are filed, they are nearly always rubber-stamped. Between 2011 and 2012, the Tbilisi courts declined less than 0.02% of more than 13,000 surveillance requests. And all of those were outside of the secret archive.
Easy to get caught
Nodar has yet to hear back about the report he filed with the police, which included the license plate number of the government vehicle he was forced into. He never complied with their demands of seduction, and instead went on air on TV9 describing their demands. He's now divorced from his wife.
Irakli certainly has not lost his sense of caution under the new government. Since the change in parliament, Irakli left TV9 because he felt he could no longer be an objective reporter. TV9 is owned by the new Prime Minister's wife.
He is now editor of Liberali, a small weekly magazine. While he dodged his bullet with Nodar, he still believes there may be videos of him in the database.
"Everyone's got sexual tendencies, and it's easy to get caught." he said. "I'm quite sure they have something on me."
More on this topic