Peru: Beyond Llamas and Machu Picchu
Can Peru once again prove skeptics wrong and succeed in the world economy?
April 25, 2015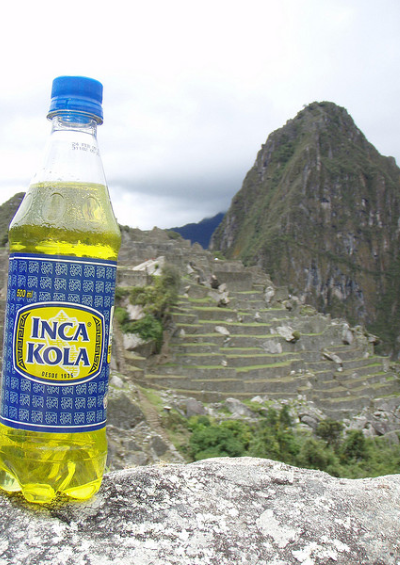 Credit: Sheep"R"Us - www.flickr.com
The world has a habit of underestimating Peru. In early times, the Spanish conquistadors struggled to overcome the Incas. Even in modern times, another empire – Coca Cola – tried to take on Inca Cola, Peru's favorite soft drink, and failed miserably.
Coke in the end had to buy Inca Cola (if you can't beat 'em, buy 'em!), as Peruvian consumers had their own idea of what constitutes the real thing.
In the 1978 Football World Cup, Scotland famously claimed it was going to Argentina to win the tournament but had an early trip home thanks to Peru winning in a shock result 3-1, with two goals from the legendary Teifilo Cubillas, the "Pele of Peru."
There's been an impressive economic growth rate averaging around 7% over the past eight years (notwithstanding a Global Financial Crisis-affected 0.9% in 2009). Inflation has been maintained at below 4% over the past couple of years. GDP and GDP per capita income levels continue to grow.
Looking to Asia
Peru's resources base and strong trade links to Asia – particularly China, its number one trade partner – have been an important part of this story, as well as historically sound monetary and fiscal policies.
Poverty and income distribution issues remain, however, with high levels of unemployment (the official unemployment rate is 7.9%) and under-employment.
Peru now pursues an open regime in terms of trade and foreign investment and, as a Pacific country, looks as much to Asia and the Pacific Rim as to the rest of South America.
The economic and political outlook in Peru is in the best shape it's been in in years, with a fair bit of consensus throughout the political class on the broad direction of macroeconomic policy.
Internal politics and infrastructure
But there are the major risks, too. In addition to the fluid political situation, which always has to be watched cautiously in Peru, there are practical issues.
For instance, there is the infrastructure gap – estimated to be worth $40 to $50 billion – that is causing capacity constraints and holding back development of the resources sector and Peru's internal and external transport links.
The usual big miners are in Peru, like BHP Billiton, Xstrata Copper, Latin Resources, Metminco and Mundo Minerals, along with global engineering firms WorleyParsons, Ausenco and SKM.
In addition to the big miners, there are mining services exporters like Gekko, Ryco Hydraulics and Caterpillar Elpyinstone, who help provide technology, training and infrastructure to Peru's burgeoning resources sector.
There are at least 45 to 50 Australian companies with a base (office, investment or project) in Peru, around the same number as in Chile about a decade ago. Many Australian companies are now undertaking an "Andean business migration strategy" of starting in Santiago and moving up to Peru, Ecuador and, nowadays, Colombia as well.
And, outside mining, a number of other Australian companies have a presence in Peru, including Orica Chemicals and Mining, Amcor PET Packaging, Codan (radio communications) and Southern Cross Alliance (a migration service).
Tourism alone doesn't do the trick
Peru is learning that tourism is not enough and it needs to expand its profile beyond Ilamas and Machu Picchu. How Peru should position itself to find a Latin American niche in the Asian century is a question that has been exercising the minds of leading Peruvian business figures like Jose Antonio Blanco, CEO of Citibank Peru.
Blanco participated in the worldwide launch of inPERU, which aims to tell the strong economic story of Peru in recent years to attract investment. The delegation – which includes the Central Bank Governor as well as Peruvian business and community leaders – has been hitting the boardrooms of London, Europe and the United States hard and is looking to Asia next.
Blanco says, "We are a whole new economy now and we have a good story to tell investors, but we can't wait for them to come to Lima – we have to go to where our customers are, and our potential investors. And it has to be about Peru, part of South America, part of APEC, but a Pacific nation, too, with our eyes on Asia."
For Peru, it's certain worth a shot as, after all, the world has a habit of underestimating it and coming off second-best. Just ask Scotland and Coca Cola.
Editor's Note: This feature was adapted from Trading Places: The Airport Economist's Guide to International Business, by Tim Harcourt, New South Publishing, 2014.
Takeaways
How Peru can find a Latin American niche in the Asian century is exercising the minds of its business leaders.
Peru is learning that tourism is not enough. It needs to expand its profile beyond Llamas and Machu Picchu.
Don't underestimate Peru – it beat Scotland in football and Coca Cola in soft drinks.