Rebuilding the WTC: Making a Virtue Out Of Necessity
What kind of development will eventually be built on the site of the destroyed World Trade Center?
May 10, 2003
What kind of development will eventually be built on the site of the destroyed World Trade Center?
There are two conflicting ideas that drive the redevelopment of the 1.7 square mile site where the World Trade Center once stood.
There are those who want the rebuilding to start immediately. True, plenty of New Yorkers found the Twin Towers — while they were still standing — intrusive, oppressive or even plain ugly. Still, there are those who want to replicate the destroyed 110-story giants exactly.
Or, failing that, they would consent to building something equally grandiose and impressive — such as the plan by Daniel Libeskind, which includes a 1,776-foot spire — and was selected by panel in February 2003.
The runner-up, a plan by New York-based Rafael Vinoly, called for an equally massive structure in place of the destroyed World Trade Center.
The panel's choice is understandable. The terrorists who destroyed the World Trade Center on September 11, 2001 inflicted a severe wound on New York and on the American spirit.
There would have been a gratifying sense of defiance and victory over terrorism if New Yorkers could rebuild the Twin Towers just as they were — or construct something even more impressive, magnificent and beautiful in their place.

There is also an economic necessity. Some 100,000 people worked in the World Trade Center, earning a whopping $47 billion per year in wages when the financial markets were booming.
There were also hundreds of companies that paid taxes. The giant complex, with its employees and visitors, supported the retail infrastructure of the entire Lower Manhattan.
Even now, a year and a half after the tragedy, the neighborhood remains economically depressed. Moreover, shockwaves are spreading throughout New York City. The city is facing a massive $6.4 billion budget deficit in fiscal 2004.
Back to reality
Now, those grand designs emerging from architectural competitions have a way of being cut down to size when reality hits. Reality as in the form of getting funds committed to invest in the exquisite design, feeling secure in the ability to earn a return on that investment from tenants and so on.
These pressures are all the most as New York City is undergoing a severe recession — and the free-spending ways of U.S. investors also seem like a thing of the past.

Not surprisingly, developers and city officials, as well as millions of ordinary Americans, are impatient for the wrangling surrounding the rebuilding of the World Trade Center to end — and for the rebuilding project to begin.
Yet, there is a large and influential group that is much less eager to see new skyscrapers rising in place of the destroyed complex. They include the families of nearly 3,000 people who perished in the terrorist attacks, as well as thousands of survivors who lived through that harrowing experience.

They argue — equally persuasively — that the World Trade Center is a giant mass grave, since the bodies of most victims were never found. In their view, a commercial development on the site would be disrespectful to the memory of those victims.
In short, those who are eager to rebuild want to move upward, to build one or several new, tall skyscrapers. And then there are those who insist on a memorial, on the contrary, want a flat area — something like a park or a playground.
Or, they even want to build in a downward direction. That's because ever since the Vietnam War Memorial was built in Washington, D.C. in the mid-1980s, the preferred form of a modern memorial everywhere in the world has been a hole in the ground.
Architects want visitors to empathize with the victims — by recreating the grave or grave-like experience below ground.
And yet, despite the present hoopla about the newly selected design for a replacement, the argument may be moot. The massive new complex may actually never be built, and those who want restrained, sober solutions may carry the day by default.
How so? Well, if the World Trade Center is rebuilt, it will inevitably become a new New York City landmark. Given its history, it will be a natural target for terrorists.
Even if the threat of global terrorism were completely eliminated, those who work in the new complex could never probably feel completely safe.
In all likelihood, this means that no insurance or reinsurance company will be willing to provide coverage for the new towers, at least not at a reasonable cost.
In addition, many insurance companies have had their wings clipped from both lots of payout events and declining stock markets. So their overall appetite for risk is much reduced.
Developers may have to obtain pledges from the U.S. government, Congress or New York City to cover insurance claims in case of a terrorist attack.
And even if the thorny insurance issue is resolved, in the end, few companies may be willing to move to this highly dangerous location — especially its top floors.
More on this topic
Read previous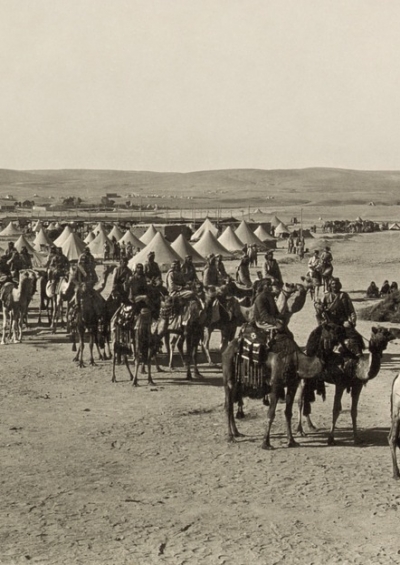 World War I and the Future of Iraq
May 9, 2003