The Return to Afghanistan
How successfully is Afghanistan handling the largest repatriation movement in history?
December 22, 2007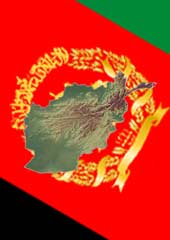 A nascent state with fragile institutions, Afghanistan is struggling to provide services to its massive returning refugee population. Yet, several indicators suggest progress is being made in the country.
National elections have taken place, a constitution has been ratified — and more children are surviving infancy and receiving an education than ever before.
Afghanistan, therefore, is at a tipping point which will require renewed and sustained involvement from the international community to ensure its stability and to provide hope for future generations of Afghans.
Traveling to Afghanistan and Pakistan earlier this year to visit IRC programs aiding Afghan refugees on both sides of the border was particularly poignant for me.
My father was one of the ten million refugees displaced by South Asia's other great forced migration — the 1971 refugee crisis leading to the birth of Bangladesh.
In Peshawar, a border town in Pakistan home to millions of exiled Afghans, my colleagues from the International Rescue Committee took me to visit a school for refugee children and adolescent girls.
We met with several parents who expressed their fear of returning to Afghanistan because it could mean the end of school for their daughters.
Their concerns highlighted a much larger problem — the lack of adequate institutions in Afghanistan.
Until security and access to basic services — including education, adequate land and shelter, jobs and clean water — improve, many refugees will not return. This is borne out by the already declining trend in voluntary repatriation.
Amazingly, it was not uncommon to hear of people who made the arduous trek back to Afghanistan only to turn around and return to live in refugee camps in Pakistan.
In 2003, the governments of Pakistan and Afghanistan and the United Nations High Commissioner for Refugees (UNHCR) signed a tripartite agreement, under which the UN agency would oversee the voluntary repatriation of Afghan refugees back to their homeland.
In the end, many may resist returning. Of the three million Afghans estimated to be in Pakistan, over half have been there since the Soviet invasion more than 20 years ago.
Many others were actually born in Pakistan, have known no other home — and have little interest in repatriating. Complicating matters, the government of Pakistan aims to close its refugee camps by 2009, citing security and economic concerns.
Therefore, it is critical to reach a humane agreement regarding the fate of these refugees to prevent any further displacement or acute humanitarian crisis in the future.
For those millions of Afghans who have voluntarily returned to rebuild their country, several indicators suggest progress is being made.
Nearly six million children are now enrolled in school. That's half the nation's children and more than at any other point in Afghanistan's history. Incredibly, one-third of them are girls, whose access to education has traditionally been limited.
In addition, a recently released Johns Hopkins University study documents a dramatic decline of 25% in the country's child mortality rate. That means 89,000 more children are alive today than would have been in years past.
In a country where more than 50% of the population is under the age of 18 years old, and one in five Afghans a school-aged child, these are clearly significant developments.
Yet, many serious problems remain. Countless school-age children must work in order for their families to survive. In rural areas, children have little or no access to formal government-run schools.
In Logar province, two hours south of Kabul, we visited a makeshift school where 50-odd students gathered in the home of a village elder. Their teacher expressed pride in his pupils' enthusiasm, yet was frustrated by his lack of books and supplies. His testimony mirrored others we heard in village after village of individuals attempting to rebuild their country but lacking adequate resources.
One of the most troubling statistics out of Afghanistan is the recent news that the country has dropped a place — from 173 to 174 out of 178 countries — on the UN Human Development Index for 2007, which ranks countries based on their citizens' economic income, life expectancy and literacy rate.
At a time when billions of dollars are pouring into the country, this drop highlights the need to allocate more funds for long-term development assistance.
With its sizable youth population, 40% unemployment rate and 75% illiteracy rate, education is the key development priority for Afghanistan.
Where feasible, more foreign aid should be channeled through the Afghan government to strengthen state institutions.
Though Afghanistan has maintained significant economic growth for the past several years, many people still live in dire poverty.
To combat this, Afghans should be involved in major infrastructure projects, building their capacity and creating jobs.
The piecemeal progress in Afghanistan resembles the contrast in buildings that line Kabul's streets, where shiny new modern constructions stand side by side with buildings pockmarked by decades of heavy artillery shelling.
To move forward, greater effort must be made to harness the energy of Afghan citizens, and greater investments must be made in helping those who return find a place where they can stay and thrive.
There is a palpable sense of both hope and fear in Afghanistan — hope in the progress being made, but fear that the international community will leave before the job is done.
For both humanitarian and strategic reasons, we cannot allow that to happen.
More on this topic