Shanghai: Urban Family Life
For these couples, married life in the big city can be a big challenge.
January 5, 2014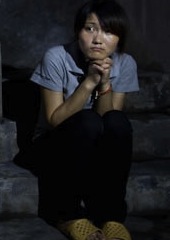 Credit: Jia DaiFengFei for The Globalist and The Other Hundred
It is still common in China for parents in rural areas to help their children find a suitable partner, by arranging dates or through introductions. If the couple is impressed, their parents arrange a wedding. China's legal age to marry is 22 for males and 20 for females.
Young factory workers in the suburbs of Shanghai, born in the last two decades, often come from rural areas of China. Even though many men and women in cities are having difficulties finding a partner, leading to the term "leftover singles," some young workers have married early and some even have children. They have made important life steps in a short time and often have not thought about love.
They frequently do not have wedding photos taken because it is too expensive for them to afford. Before Valentine's Day, photographer Jia DaiFengFei took free wedding photos for several couples if they posed in the factories where they worked. He then returned to each couple six months later to see how their daily life had changed.
These photos appear in the book The Other Hundred.
Guanfu Chen was born in Heze, Shandong Province in 1983. He is a general worker. His wife, Zhimin Lin, was born in Guangan, Sichuan Province in 1987. She is a general worker and is regarded as the most beautiful woman in the workshop. They were introduced to each other by their classmates and married during a spring festival in 2012. They are planning to return to Sichuan in the future.
---
Zhimin Lin, six months later. Guanfu Chen began working at a new factory. Although his income increased, they had to live separately.
---
Lizhi Jiang was born in Yongzhou, Hunan Province in 1987. His wife, Qifeng Jiang, was as well. She now works in accounting at a factory. Their son is 2 years old and they plan to bring him to Shanghai from their hometown. They've bought a house in Yongzhou and want to buy a car. Jiang hopes they both can work in the same company.
---
Migrant workers face many challenges living in the city. They often cannot afford to raise their children and must bring them to their parents in the countryside. Low wages create a barrier for them to access quality housing and other social benefits. Their lives seems to be fragile in the whirlpool of urban estrangement.
---
Yuanyuan Tang and her husband Cheng Xu have different work schedules six months after the photographer met them to take their wedding photo. She works during the day and he works during the night.
---
More on this topic
Takeaways
Photos: Many young Shanghai couples struggle to afford rent to live together with their children.
Read previous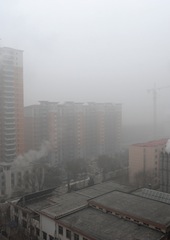 Just The Facts: Noxious Beijing
January 4, 2014