Blues for Tahrir
Todd Marcus, bass clarinetist from Baltimore, laments the suffering of people in the land of his forefathers.
August 1, 2015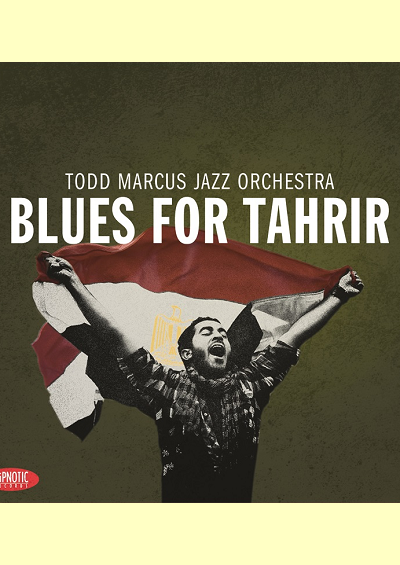 The world watched anxiously as the Arab Spring unfolded in 2011. Among those gripped by accounts in the newspapers and on social media was bass clarinetist and composer Todd Marcus. For him, the explosive events felt close to home- despite being half a world away.
Marcus's roots run from his home in Baltimore straight to Cairo, through his Egyptian-born father. Thus, concerns for the country's future that Marcus shared with millions of onlookers were compounded by very personal worries for the well being of the Egyptian side of his family.
The years following that initial swell of protest and revolution have continued to be turbulent ones in Egypt.
The initial jubilation at the overthrow of dictatorial President Hosni Mubarak quickly turned into profound divisiveness. The election of Mohammed Morsi brought the Muslim Brotherhood into power, that eventually led to a state of tense upheaval, leading to a coup that placed another military leader, Abdel Fattah el-Sisi, into the presidency in June 2014.
"Things remain very precarious, and it's disappointing because the military is back in and the strong clampdown on the opposition has been restored. Sometimes it feels like nothing has changed," said Marcus.
A message behind the melodies
The wide range of emotions that greeted each tumultuous development is reflected in the jazz suite that comprises the centerpiece of Marcus's third album, "Blues for Tahrir".
The four-part composition reveals hope intermingled with fear, frustration battling inspiration, violence in tension with optimism.
Named for Tahrir Square, the locus of the revolution in Egypt, the suite also reveals the evolution of Marcus's fusion of jazz with Middle Eastern music that began to emerge on this previous album, "Inheritance".
"I grew up in northern New Jersey without any Middle Eastern or Egyptian community or culture around," Marcus recalls. "But as I got a little older and more mature, I started to take my heritage more seriously".
"As a musician, I found that I really liked the epic compositions and arrangements of Middle Eastern classical music, which tend to have a lot of different movements that take you on a journey," he added.
"Adhan," the first movement of the "Blues for Tahrir Suite," begins with a sinuous, heavily Middle Eastern-inflected melody that evokes the call to prayer that rings out five times a day in Egypt and other Islamic countries.
"Reflections," the second, more contemplative movement, was the first part written and made its first appearance on Inheritance, as "Blues for Tahrir."
It was penned during the initial surge of protest, as inspiring democratic fervor continually surged to overcome the violence of government crackdowns.
That sense of hope remains in this performance of the tune, even if it is undercut somewhat by the intense passion of Marcus's solo, layered with several years of heart-breaking hindsight.
"Tears on the Square," the third movement and the last to be written, is an even more direct expression of the painful fact that so much suffering has seemingly led Egypt's people back to where they started.
Mournful melodies seem to waft in on the wind, carrying with them an aching reminder of the blood spilled in that notorious gathering place, finally breaking open with the piercing lament of Alex Norris's wailing trumpet.
The vigorous "Protest" concludes the suite with an impressionistic portrait of the clashes in Tahrir Square. The ensemble's piercing strikes intrude into Eric Kennedy's drum solo, representing the military's aggressive suppression of protestors.
Music that is socially relevant
The suite brings together all of Marcus's varied interests: not only his Egyptian heritage and his music, but less obviously his studies in political science and his community-based endeavors.
While a political science major at Loyola University, Maryland, Marcus began volunteering for a local chapter of Habitat for Humanity, where he formed ties with Reverend C.W. Harris, a local community leader.
Together, the two founded Newborn Holistic Ministries, a nonprofit organization that deals with poverty-related issues in Marcus's Baltimore community, a more hands-on manifestation of the social concern embodied by Blues for Tahrir,
Following the quartet outing Inheritance, Blues for Tahrir marks the leader's return to the large ensemble format of his 2006 debut CD, "In Pursuit of the 9th Man".
The horn-heavy piece ensemble featured on the album proves to be an ideal palette for Marcus's imaginative arrangements, which caught the ear of Orrin Evans and landed Marcus a gig as an arranger and composer for the pianist's Captain Black Big Band.
Marcus's smaller Jazz Orchestra nimbly segues from intricate interweaving lines to forceful unison blasts. "It's that best of both worlds," he says. "You have the potential for the power and force of a large ensemble but also the ability to really explore as a soloist and come up with something heavy and deep."
The large ensemble also buoys Marcus's innovative use of the bass clarinet, which he wields in an impressive array of contexts. "More often than not," he explains, "when the bass clarinet is used in jazz, it tends to lean heavily towards avant-garde and free-jazz styles or just be used for softer textures.
Politics and music
But the instrument is rarely used in more intense or up-tempo straight-ahead jazz. In large part, the technical and sonic nature of the instrument just makes this really difficult. So I think my work in this area has allowed me to chart some unique new ground and really present the bass clarinet as a well-rounded instrument."
Marcus's exploration of Middle Eastern themes finds expression well beyond his composition of music directly inspired by political events in the region.
The closing track on Blues for Tahrir, "Bousa," was inspired by the work of late Egyptian vocalist Abdel Halim Hafez, known as the "King of Arabic music."
The piece, the title of which means "A kiss," translates the rich ornamentations of Hafez's music into a densely layered arrangement.
And "Wahsouli" expanded from a quartet version on Inheritance, contains not only similar ornamentations but also a shifting narrative sense inspired by the epic, multi-part compositions of Middle Eastern classical music.
The Arabic title "Wahsouli" means "my arrival," which nicely captures the sense that the fusion of jazz and Middle Eastern sounds has helped to bring Marcus's musical identity more sharply into focus.
A diverse lineup
The remainder of the album reveals the diversity of his talents, however. Opener "Many Moons," which is preceded by a lush, almost symphonic introduction, cycles through several different and equally distinct motifs, as if following the phases of the moon, constantly altering the tune's rich harmonies.
The leader contributes a solo that progresses from tenderness to intensity, followed by delicate ballad playing by pianist Xavier Davis.
"Alien offered a challenging change of pace for Marcus, a vocal piece with definite pop leanings written by photographer and friend Gary Young and featuring the voice of Italian-born singer Irene Jalenti.
Alienation and loneliness
The song's mood of alienation and loneliness complements the themes found in the "Blues for Tahrir Suite" from a more personal, introspective angle. Alan Ferber's supple trombone proves as expressive and singing as Jalenti's vocals during his solo.
Finally, Marcus reaches deep into the American Songbook for the classic Gershwin standard "Summertime," giving audiences a greater sense of his arranging chops via an individualistic transformation of a well-know favorite, again featuring Jalenti.
"I like to give listeners some kind of reference point," Marcus says. "I always try to work in a standard or two to show something familiar that I've got a new take on."
Whether portraying the heartfelt reaction to a country in turmoil or casting in a new light the familiar melody of a timeless song, Marcus clearly demonstrates that he can wring deep, emotional colors from virtually any source.
The hope remains that the blues he plays for Egypt's people will become a song of triumph rather than an elegy of loss, and that the spark for future endeavors will come from the moon and summertime rather than from conflict and pain.
In Todd Marcus's hands, any of these sparks will surely ignite music worth hearing — and feeling.
More on this topic
Takeaways
Marcus's fusion of jazz with Middle Eastern music is directly inspired by political events in Egypt.
Marcus hopes that the blues he plays will become a song of triumph rather than an elegy of loss.
The composition reveals hope intermingled with fear, frustration and violence in tension with optimism