The Case Against Dr. Vivek Murthy for Surgeon General
Why the NRA should continue to dictate the U.S.'s medical priorities.
March 23, 2014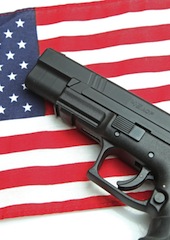 Credit: a katz - Shutterstock.com
Today, I received an urgent email from MoveOn.org soliciting my support for President Obama's nominee for Surgeon General of the United States, Dr. Vivek Murthy.
The nomination is apparently held up by an intervention from the National Rifle Association (NRA) along with Democratic senatorial candidates, who are fearful about this fall's mid-term election.
Just what is Dr. Murthy's objectionable act? He has publicly stated that he considers guns to be a threat to public health.
Once again, my left-leaning friends in the United States evidently fail to understand the deep patriotism and care that the NRA feels for the country.
In very few cases has the organization's often rabid opposition to what's sensible been more justified than in the case of this nominee. After all, real lives are at stake here.
Dr. Murthy may be Harvard and Yale educated and he has been a leader in the field of H.I.V. and AIDS prevention since 1995. But all of that resume-based stuff overlooks the critical role that the Surgeon General plays in our society. In many ways, he is the guardian over the superiority of the U.S. medical system.
Thinking the unthinkable – in America
What could Dr. Murthy possibly have been thinking in his public uttering on gun safety? If guns were not freely available across this nation, there would be no accidental or intentional gunshot wounds.
And if there were no such gunshot wounds, America would not have built the best trauma centers in the world with the best equipment and the best doctors.
When something really tragic happens, these trauma centers are at the ready to treat the innocent victims with great expertise. They have learned their trade by curing every day countless numbers of people injured by guns, many of them not so innocent.
Chicagoland
Apparently, neither President Obama nor Dr. Murthy have watched the CNN reality show "Chicagoland" and the heroic accomplishments of trauma surgeon, Dr. Andrew Dennis. He stands ready, day and night, to save the lives of those who have stood at the wrong side of a barrel. His skill is honed by the fact that there were 2,194 shooting victims in 2013 alone in this most American of American cities.
If Dr. Murthy were to become U.S. Surgeon General, his opposition and influence to restrict the free purchase and use of guns everywhere in this nation would threaten America's superiority in trauma centers. It would also reduce the need for highly-trained experts in such numbers in this field.
Unless the NRA prevails in this battle, hundreds, if not thousands of doctors would have to be redeployed – to practice primary care.
What's next?
Before you know it, President Obama will nominate a candidate for the position of Attorney General who is opposed to the death penalty. Imagine what such a step would do to the innovative research that the United States of America has led globally in developing ever more effective drugs for lethal injection.
In short: America's political Left and Right must join hands to prevent Dr. Murthy's confirmation. It's in the nation's medical interest.
More on this topic