How Trump Is Tied to China, Literally
Clothes making can provide deep insights into both the character of global leaders and commercial realities.
January 17, 2020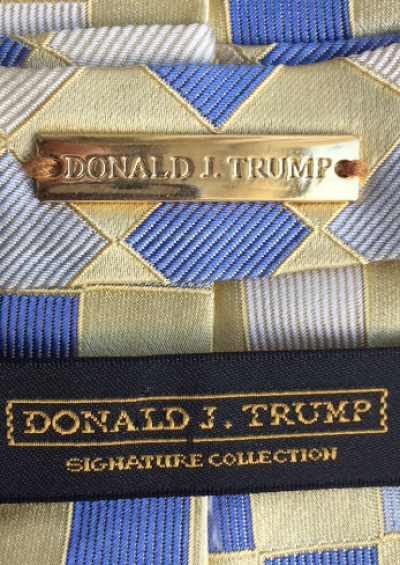 "Phase One" of the U.S.-China trade agreement was signed in Washington, D.C. recently. It made me think of an episode from the time when I was living there.
Little did I know it at the time when, in the pre-Trump presidency days (and when wearing ties was still regarded in the Washington professional world), I bought a handsome tie at a Washington, D.C. discounter. This accessory now serves me as a key proof point for how intertwined trade really is.
As everybody knows, since the first days of arriving in the Oval Office, Trump has been going after China and its dubious trade practices. There is some merit to the campaign he has been pursuing. The PRC has indeed played fast and loose with international rules, especially on intellectual property.
The Chinese government has a penchant for interpreting them at best in a very one-sided fashion. In that sense, Beijing ought to realize that, in Donald Trump, it has met its match. He, too, plays fast and loose with international rules.
Trump: Not "Made in the USA"!
Just what, you wonder, does my old tie have to do with it? A lot. You see, that tie carries a "Donald J. Trump Collection" plate on its rear side. In other words, it was part of Trump's wide range of pre-White House commercial activities to merchandise his name.
The kicker, though, is yet another attachment on my tie's back side. Tucked on the inside is the regional provenance – the location where the tie was made.
I am certain you have by now guessed that Trump's tie was "Made in China" – which would be correct.
The man who is adamant about putting "America First," the man who feels the Chinese have rigged the global trade game and who blames the CEOs of large U.S. companies for having shamefully produced their goods in China (because it is cheaper) and then importing them to sell them to U.S. consumers, in his past engaged in that very same practice.
Not that he would mention or acknowledge that these days. In Trump's world, the fault lies always with the "other" side – never with himself.
Why did I buy that tie?
In case you wonder: I bought that tie long before "The Donald" became a realistic prospect for President of the United States. I have never been into buying brands of any type. But Trump's design team in that case had come up with a nice tie (see photo).
Still, I remember thinking more than twice about buying it at the time. The reason why I ultimately bought it was largely to use it as a spoof. I planned to use it as an occasional talking point with friends about the merchandising range of an ego-maniacal, NYC-based reality TV host, buffoon and real estate tycoon. Little did I know at the time…
Today, my purchase serves as a relevant proof point in world trade and world politics. It pinpoints the utter lack of principles, boundless hustler mentality and self-seeking character of the man who now serves as the 45th President of the United States.