Promoting the Most Important Anti-Corruption Action in a Generation
Kleptocrats and Oligarchs Beware!
January 2, 2021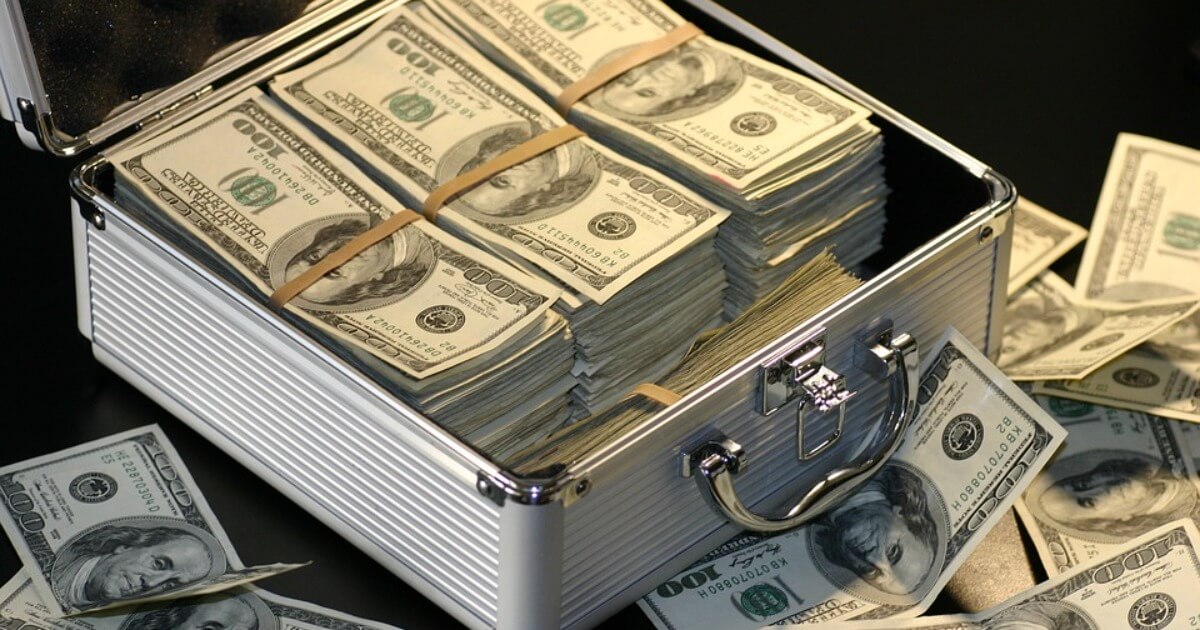 Amidst the political chaos over vetoes, government shutdowns, stimulus checks and veto overrides that marks the waning days of the Trump administration, the passage of one new law has so far not gotten anywhere
near the required attention.
The U.S. Senate, following action already taken in the House of Representatives, has overridden President Trump's veto of the annual, $740 billion National Defense Authorization Act — the first new U.S. law of 2021.
Entrenched deep within this law (to be precise, under Section 6401, Title LXIV), is the Corporate Transparency Act containing key anti-money-laundering provisions that hold the promise of pulling the rug from under a great many kleptocrats and oligarchs.
And Trump didn't even know
It has the potential to have a global impact — striking a formidable blow at the dangerous, more than two trillion-dollar annual, money laundering business.
The U.S. law will probably play major roles in re-enforcing similar official action in the UK and across the European Union, so gradually producing a more robust global anti-money laundering enforcement system.
It is no exaggeration to say that, without Donald Trump ever realizing it, the United States has approved the most important anti-corruption law seen in a generation.
That is all the more ironic as the Trump Organization's real estate operations, now facing major refinancing challenges, may find it far harder to tap Russian and other offshore cash.
Corporate Transparency Act
The Corporate Transparency Act is likely to unleash major investigations involving kleptocrats, oligarchs and gangsters from around the world as they strive to invest their stolen loot in prime assets on both sides of the Atlantic.
It also provides the keys to unmasking hundreds of thousands of currently opaque shell companies used to wash stolen loot.
Its passage is not only because it reflects concerns by both Republican and Democrat politicians in the United States Congress to curb terrorist financing.
More generally, they also worry that rising levels of cash controlled by kleptocrats are finding their ways into Western financial markets — and thus poses a national security risk.
Untangling "beneficial" (i.e., real) ownership
For the first time, all corporations operating in the United States will be forced under law to disclose the identities of their true beneficial owners.
Under the leadership of the U.S. Treasury, investigators will, in particular, target complex corporate structures.
As the new law fittingly describes them, these structures resemble Russian nesting "Matryoshka" dolls: One company layered upon another — and then another and then yet another — all in an effort to defy detection and confuse investigators.
From UK entities to Delaware…
Many of these structures involve holding companies registered in the Cayman Islands, British Virgin Islands and other Caribbean jurisdictions — as well as the Isle of Jersey, the U.S. state of Delaware and dozens of other
places where no beneficial ownership information is required.
According to former International Monetary Fund Deputy Managing Director David Lipton, the amount of private wealth estimated to be hidden in offshore financial centers, amounts to $7 trillion — which is approximately 8% of global GDP.
Oligarchs beware
It took extraordinary detective work from the FBI to find that some of the cash that the U.S. Justice Department — stated in a civil forfeiture action in August 2020 — was controlled by Ukrainian oligarch Ihor Kolomoisky (who
allegedly defrauded PrivatBank in Kyiv).
Funds flowed from that bank to its branch in Cyprus, then on through a web of offshore companies to be managed through an office in Miami that made investments — including an office tower in Louisville, Kentucky and an office park in Dallas, Texas, which have a combined value of approximately $70 million.
Kolomoisky also happens to be the owner of the television station where the current Ukrainian President, Volodymyr Zelensky, rose to national fame.
U.S. Treasury: De facto global enforcer
Investigations like this will be simplified once the U.S. Treasury has issued detailed regulations in the coming year — and then started a two-year process of registering all companies active in the United States.
So long as kleptocrats, their cronies and organized crime can place their stolen wealth in the United States — the world's largest capital market — the impact of similar UK and EU laws are likely to be modest.
That is why the new U.S. law — mandating transparency on U.S. beneficial ownership — is a game-changer.
Beneficial global leadership by the U.S.
The critical importance of the U.S. law is that aggressive U.S. enforcement will spur a significant upswing in coordinated, anti-money-laundering investigations across most Western countries.
Canada may follow in 2021 with a similar law. The UK has a beneficial ownership law already — although its enforcement remains tepid.
UK authorities have now vowed to ramp-up
All EU countries are required under the "Fifth Money Laundering Directive" to establish public registers of beneficial owners of companies — and to create a mechanism to link the national information across all EU members.
Corporate beneficial ownership transparency laws are only effective when applied in all the major economies — where the money-launders are most interested in investing their cash.
The Swiss have yet to announce their full cooperation — but pressure on them is likely to mount.
Kleptocrats and oligarchs
Kleptocrats — and oligarchs — consider the safety of their stolen wealth to be greater in Western countries than in their home countries. And, of course, they see investment opportunities in the West to be far superior.
Aided by armies of highly-paid lawyers, financial consultants, bankers, real estate brokers and other enablers in London, New York — and many other capital market centers — the kleptocrats have plenty of facilitators to launder their cash.
Currently, it is easy for them to channel their funds into Western stocks and bonds, hedge funds, British country estates, luxury apartments in Munich and Vancouver, Beverly Hills mansions, grand yachts moored in Monte Carlo, fine art and gold.
Almost all major money laundering cases prosecuted by the U.S. Justice Department have involved tracking the beneficial ownership of multiple secretive shell companies.
On October 22, 2020, for example, as U.S., UK, Singapore and Hong Kong law enforcement agencies all settled cases with Goldman Sachs, the U.S. court filings described multiple schemes using layers of shell companies deployed by senior executives at the bank to steal — and then launder — billions of dollars for themselves and assorted international partners.
Diluting the law
Over many years, a number of U.S. members of Congress have tried to promote a corporate beneficial ownership law, but the lobbying forces of the enablers have always proven to be too powerful.
Now, the enablers have been out-foxed as the law was placed in the sprawling national security legislation that, as usual, commanded overwhelming majority votes in both houses of Congress.
Mounting concerns about terrorist financing, the damage done to U.S. commerce through trade-related money laundering, the rising levels of dirty cash entering U.S. markets, and the concerns, in particular, of Russian and
Chinese illicit finance countering Western strategic interests, all combined to produce a unique coalition in Congress of advocates for the new legislation.
The Republicans in control of finance in the Senate were among the heroes and their support greatly influenced long-time opponents, such as the Chamber of Commerce, to back-down.
As a group of non-governmental advocates of the law, the FACT Coalition stressed, important leadership was
provided by "Senators Brown, Crapo, Warner, Cotton, Jones, Rounds, Menendez, Kennedy, Cortez Masto, Moran, Whitehouse, Grassley, Wyden and Rubio."
The opponents — the lawyers and real estate interests — are likely to be the most powerful advocates seeking to dilute the regulations that the U.S. Treasury will be drafting and secure exemptions for all manner of corporate structures — so striving to create loopholes that their klepto-clients can take the fullest advantage of it.