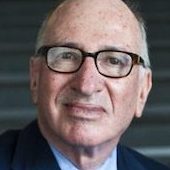 Frank Vogl is co-founder of Transparency International and author of "The Enablers – How the West Supports Kleptocrats and Corruption-Endangering Our Democracy"
[Washington D.C., United States]
Frank Vogl is president of Vogl Communications, Inc., in Washington D.C. and publisher of www.ethicsworld.org. Vogl Communications works with leading financial services firms and economic development institutions.
Mr. Vogl is also the co-founder of Transparency International (and currently an adviser to its managing director) and is a co-founder and member of the Board of Directors of the Partnership for Transparency Fund and a Trustee of the Committee for Economic Development.
He serves as a member of the International Council of the New Israel Fund and of the Advisory Council of the United Nations Association of the Greater Washington Area. A former spokesman for the World Bank, Mr. Vogl was previously the international economics correspondent for the Times of London.
He is the author of many articles and books, and lectures extensively on global ethics and corruption. Some of his recent works include "The Enablers – How the West Supports Kleptocrats and Corruption-Endangering Our Democracy" (Roman and Littlefield) and "Waging War on Corruption: Inside the Movement Fighting the Abuse of Power"
Follow him @frankvogl
"Corruption" group on Facebook – https://www.facebook.com/groups/anticorruptioninfo/