The Global Economy as a Wild Card?
How is Europe impacted by transatlantic and U.S.-Chinese trade tensions and by trade with China itself?
November 13, 2018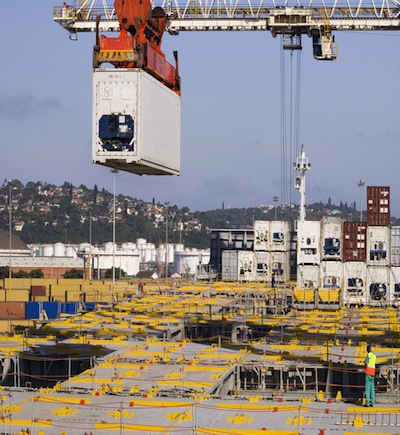 Credit: donvictorio Shutterstock.com
Since March 2018, European companies have cited trade tensions stoked by U.S. President Donald Trump as one major factor – and often as the single most important factor – that is clouding their global outlook.
In March 2018, right after Trump had announced his intention to impose steel and aluminum tariffs, the economic sentiment index for the Eurozone suffered its worst monthly decline since August 2014.
However, the direct damage to the Eurozone is very limited so far. Thanks to the U.S.-EU trade armistice brokered by EU Commission President Jean-Claude Juncker with Donald Trump in July, few Eurozone exports to the United States are affected by new import duties.
Trump's trade war with China hurting Europe
However, the ongoing trade war between the United States and China is hurting the EU in three ways:
First, it contributes to softer growth in China, a major market for EU exports.
Second, the uncertainty about future tariffs makes companies reluctant to invest in their current cross-border supply chains as they do not know how tariffs will affect these supply chains in the future.
Less dynamic business investment reduces the demand for machine tools for which the Eurozone – and especially Germany — is a top global producer and exporter.
Third, fears that Trump is undermining the rules of the global trading system exacerbate the hesitancy to invest in export-oriented activities.
So far, the United States and China have made no visible progress in their trade disputes. At this stage, it is unclear whether Trump and China's leader Xi Jinping will move closer to a truce if not yet to a deal upon a meeting at or around the time of the G20 summit in Argentina (November 30 – December 1, 2018).
Regardless of the outcome of this meeting, the pressure on both sides to start serious negotiations instead of hurling one punitive tariff after the other will likely rise over time.
China, with its focus on its long-term development rather than short-term political gains, seems ready to make concessions in the trade war as long as it manages to save face in the process.
In the United States, the fiscal stimulus is currently still obscuring the damage from the trade war with China. The costs of the conflict will likely become more obvious over time as the fiscal stimulus fades over the course of 2019.
Under those circumstances, a reasonable assumption is that the U.S.-Chinese trade war will give way to serious negotiations at some point in the first half of next year.
Serious risks remain
Unfortunately, the risk that the trade war continues to escalate instead remains potent. As a rough guess, an ongoing U.S.-Chinese trade war could depress the Eurozone growth rate by 0.2-0.3 percentage points in 2019.
On its own, it would not make the difference between a rebound in growth and continued softness. Still, it would be a significant factor.
As to Europe's own trade relations with China, one must know that no party lasts forever. In 2017, a 17.3% surge in goods exports to China had contributed 0.2 percentage points to the Eurozone's stellar 2.5% growth rate.
During 2018, however, some controlled deleveraging in China and fallout from the U.S.-Chinese trade war have exacerbated a slowdown in Chinese demand growth. This slowdown may well be more pronounced than the country admits in its official GDP statistics.
The annual growth in Eurozone exports to China has decelerated to a mere 1.7% year-on-year for the July/August 2018 average. It may even turn negative for a while once the recent Chinese rush to beat incoming U.S. tariffs by stepping up exports to the United States (and raising imports of components for these exports) beforehand has run its course.
In early 2019, weakness in China's economy may continue to weigh on Eurozone growth. However, with its high savings rate, sufficient controls to prevent massive capital flight and subdued inflation, China has the tools to re-stimulate domestic demand if, when, and to the extent that its political leaders deem desirable.
One example is an announced tax cut on cars. As a result, we expect growth in Eurozone exports to China to rebound over the course of 2019.
More on this topic