10 Facts: Will Global Defense Spending Rise?
After Ukraine, many voices beat the drums for more money going to defense.
March 30, 2014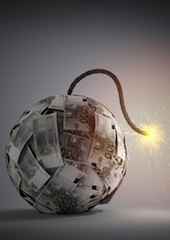 Credit: Mopic - Shutterstock.com
1. Only seven countries in the world spend a higher share of their GDP on defense than the United States.
2. All of them are located outside of NATO.


3. Only Saudi Arabia (8.9% of GDP), South Sudan (8.4%), Oman (8.4%), Israel (6.2%), Azerbaijan and Jordan (both at 4.6%), and Algeria (4.5%) spend a higher share of their economy on defense than the U.S.
4. In comparison, even bitter regional rivals India and Pakistan spent no more than 2.7% and 2.5% of GDP on defense, respectively.
5. China spends about 2% of its GDP on defense.


6. All but four of Europe's NATO members spend less than 2% of their GDP on defense.
7. Globally, it is not just Western Europe countries that are moderating their defense spending.
8. Many nations see other needs of human security as too pressing.
9. We live in a world where governments have to focus on protecting their people against hunger and poverty – and to provide support for the aging.
10. At a time of slow economic growth globally, societies all over the world seem to agree on emphasizing non-military priorities.
The upshot:
All the talk about higher funding levels for the military, whether expressed by U.S. President Obama, the NATO Secretary General or others — is unlikely to succeed.
Analysis by The Globalist Research Center. Data credit: International Institute for Strategic Studies (IISS).
More on this topic