Forget Beijing and Delhi: When Diplomacy Goes Local
How to conduct global diplomacy with local power centers.
December 14, 2013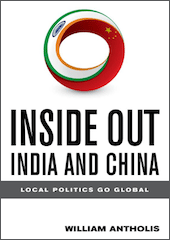 Professional diplomats and policymakers are trained to view China and India – in the jargon of political science – as "unitary self-interested agents."
Scholars of international affairs helped to shape this view by focusing on nations' core economic and strategic interests. It is no accident that diplomats use "Beijing" for China or "New Delhi" for India. Both countries have streamlined foreign policy systems. In neither country does the parliament play a major role in foreign policy.
More modern variants apply microeconomic theory and rational choice theory, assuming that states act the same way self-interested individuals would — as if nations had one mind and one interest.
Of course, the reality is far different. The politics between central and local forces in China and India may differ from those of the West, but they are no less complicated. In neither country is the central government completely in charge.
In both India's multiparty democracy and China's one-party "people's republic," a multicolored map exists that delineates not only territorial units, but also multiple conceptions of what the priorities are that need to be reconciled.
The rise of the locals
The power of politicians outside of the two capitals has expanded dramatically in recent decades. In India and China, subnational leaders, in charge of country-sized jurisdictions, now drive economic development. They make critical decisions about energy and natural resources.
Their jurisdictions are also the proving ground for the rule of law — or lack of it. The most economically advanced and wealthy places – such as Guangdong and Gujarat – have begun to emerge into the world's awareness. Real challenges exist in the poorer or emerging provinces, but even there, success stories exist.
It is not just that these places are diverse. Local leaders are truly starting to lead, moving these countries toward change from the inside out. And local leaders are becoming national leaders.
In coastal China's fast-growing Guangdong province, former party secretary Wang Yang just oversaw half a decade of sizzling growth. He helped harness the global economy, while also streamlining government, protecting intellectual property and cutting greenhouse gases.
In March 2013, he was promoted to vice premier, and some hope he will lead China someday. Still, his experiments in political and economic reform struck others in China as too much, too soon.
In India's state of Gujarat, Chief Minister Narendra Modi earned a reputation for bold leadership. He has overseen a decade of prosperity and has directed one of India's most effective bureaucracies. He will now lead the top opposition party – the BJP – in India's parliamentary elections in 2014.
Many Indians, especially business leaders, hope Modi will emerge as prime minister. Yet, his path to national power is not assured. He is loathed by many who see him as, among other things, a Hindu communalist who steered murderous anti-Muslim riots and who might bring India to war with Pakistan.
Reformers versus crooks
In India's Bihar state and China's Chongqing province, local leaders became national celebrities by fighting corruption and tackling poverty. Bihar's chief minister Nitish Kumar and Chongqing's former party secretary Bo Xilai each aggressively prosecuted local hoodlums.
Each used the very visible hand of state-led investment to bring dramatic economic growth. Yet, they did so in very different ways.
Nitish Kumar has few peers in India for being an upright administrator and has become a model for addressing India's endemic poverty. But his chances to someday run India are complicated by the narrow reach of his Janata Dal (United) political party, which is based largely in Bihar and is only India's fifth-largest party.
Bo Xilai's career came to a crashing halt when Bo, his wife and a top lieutenant were caught in a web of corruption and murder.
What's the West to do?
Successful cooperation with foreign countries and companies is often anchored in a few select states or provinces.
So what should western nations do to better engage these localities? They can start with four relatively easy steps.
First, double the number of consulates in each country. The United States, for example, has the Beijing embassy and five consulates in China, and the New Delhi embassy and four consulates in India – or roughly one diplomatic post for every 200 million people in each country.
That compares with one post for every 10 million people in the Americas or in the EU. We can't begin to engage either country effectively unless or until we understand these places better.
Second, help governors and mayors connect with counterparts across borders, including trade missions abroad. Already, some leading American politicians have taken this seriously.
Jon Huntsman was a leader in this regard, both as Governor of Utah, and during his time as Ambassador to China. Mark Warner was a leader in this regard as Governor of Virginia, and he has followed through on that as the head of the India Caucus in the U.S. Senate.
Third, involve local leaders in global challenges. On a global issue such as climate change, for instance, governors and mayors can play a constructive role. Across the United States, governors have taken the lead in trying to deal with climate change, and are trying to respond to the growing impacts.
That cuts across partisan lines. A mayor like Michael Bloomberg of New York or a governor like Chris Christie of New Jersey can be an outspoken proponent for how best to respond to and prepare for major climactic events.
Emerging local political cultures
Finally, we need to take a more nuanced perspective on how local governance in China and in India play into larger themes for managing a liberal democratic world order. The simple view is that China is an authoritarian one-party state and that India is a multi-party democracy.
The reality is more complicated when one looks at local politics. Many provinces and cities in China – while far from parliamentary democracies – are experimenting with e-governance, robust academic debates, public attention to provincial and local finances, and efforts to fight corruption.
In India, local government leaves much to be desired. Though there are over 3,000,000 locally elected officials in India, they rarely have the power to tax and spend. Critical decisions are made by bureaucrats who have been appointed by New Delhi. They have complex reporting requirements to a variety of state and national officials.
Across all these issues, we need to take a fresh approach to diplomacy. China and India have both woken up to the reality that one cannot govern over a billion people without more directly engaging and empowering local authorities. Our diplomacy toward these two nations needs to reflect that reality.
Editor's note: This essay is adapted from "Inside Out, India and China: Local Politics Go Global" by William J. Antholis (Brookings Institution Press, 2013). Published by arrangement with the author. Copyright 2013 Brookings.
More on this topic