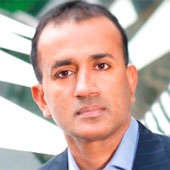 Founder and chief executive, Global Institute for Tomorrow
Chandran Nair is the founder of the Global Institute For Tomorrow (GIFT), an organization based in Asia that is focused on the relationship of Asian society and values with those of the rest of the world.
Chandran was chairman of Environmental Resources Management (ERM) in the Asia Pacific until March 2004. He established the company as Asia's leader in environmental consulting.
For more than a decade, Mr. Nair has strongly advocated a more sustainable approach to development in Asia, and has helped the governments of Taiwan and Hong Kong instill these principles into their key decision-making processes. He continues to advise the Hong Kong government, devising a new approach that gives the public a bigger role in key policymaking decisions.
He has worked and traveled extensively. Corporations seek his advice on how to meet the challenges of doing business in Asia and of globalization, on investment geopolitics, leadership development, ethics, sustainability and corporate social responsibility.
He has addressed many of these issues at forums around the world, notably at speaking engagements in London, New York, Washington, Sydney and all of the major Asian capitals.
In addition to his work with GIFT, Chandran has maintained his interest in business, continuing to provide strategic management advice and coaching to business leaders with a focus on achieving growth targets and bringing about organizational change.
His new book is "The Sustainable State: The Future of Government, Economy and Society."