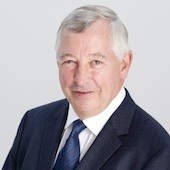 Chair, King's Policy Institute, Kings College London.
Nick Butler is a visiting professor and chair of the King's Policy Institute at Kings College London.
He was group vice president for strategy and policy development at BP from 2002 to 2006 and had previously been BP's group policy adviser.
From 2009 to 2010, he worked for Prime Minister Gordon Brown as senior policy adviser. He is also energy policy adviser at the Cavendish Laboratory in Cambridge, and a senior adviser to Coller Capital, Linton Capital and Corporate Value Associates.
From 2007 to 2009, Mr. Butler was chairman of the Cambridge Centre for Energy Studies. He is is a non-executive director of Cambridge Econometrics, a trustee of Asia House, and vice president of the Hay-on-Wye literary festival. He is a regular contributor to the Financial Times.
Mr. Butler graduated in with a degree in economics from Trinity College, at the University of Cambridge.